how to put writing skills on resume – Top 50 skills
One of the most important sections of any curriculum vitae (CV) is the Skills section, which significantly affects whether you get accepted in a job or not. Therefore, it is recommended you give this section great attention.
Resume Help
-

how to put writing skills on resume – Top 50 skills Get your free resume now
how to put writing skills on resume – Top 50 skills
One of the most important sections of any curriculum vitae (CV) is the Skills section, which significantly affects whether you get accepted in a job or not. Therefore, it is recommended you give this section great attention.

Adam G
Content Specialist
Published on: September 4, 2019 , Updated on: December 7, 2022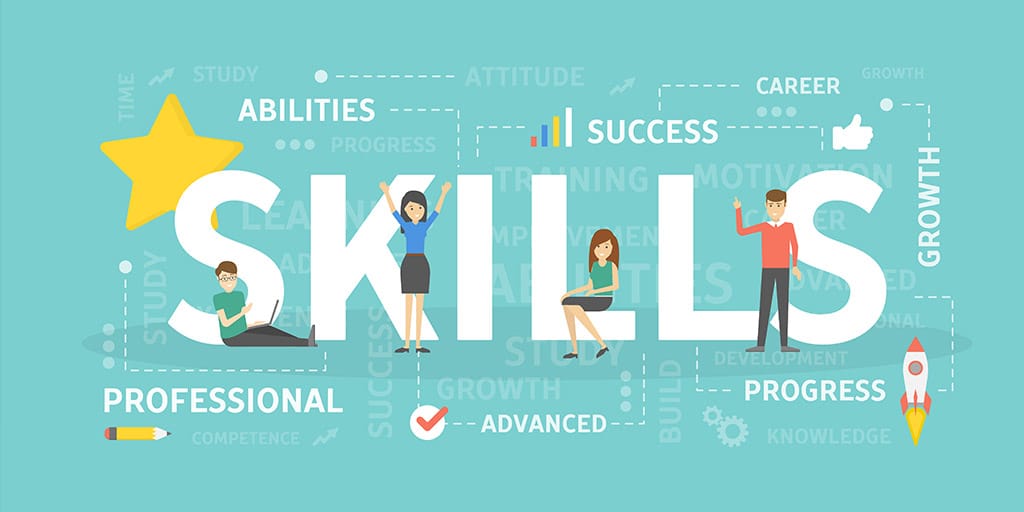 This guide will help you understand how to put writing skills on resume
A list of the best personal and acquired skills for your CV and cover letter.
The difference between Personal and Acquired Skills.
The skills that are best added to your CV.
How to determine most appropriate for the job.
How to organize your them in your CV.
What is the difference between Acquired and Personal Skills?
Understanding the difference between acquired and personal skills is the first step in learning how to put writing skills on resume.
A. Acquired Skills
Acquired, or Hard Skills, are those abilities that are learnable. In other words, they are abilities a person would attain from a specialized academic study obtained from educational centers, such as universities and training courses.
These skills qualify you for a specific job. For example, if you are a certified accountant and are considering a change in your career to work in marketing, your accounting skills will not add value to your resume as a marketer. A marketer is certainly not required to prepare accounting books nor do tax returns.
Most Acquired Skills are learned through formal education, practical learning, higher graduate studies, and recently through e-learning platforms, such as khanacademy.org, courser.org, codeschool.com.
10 Most Common Examples of Acquired Skills
Developing
Accounting
Translating
Holding a driving license
Bookkeeping and account management
Data analysis
Mathematics
Project management
Teaching
Engineering
read more: 50+ Resume Objective Examples
Why Are Resume Templates In MS Word BAD?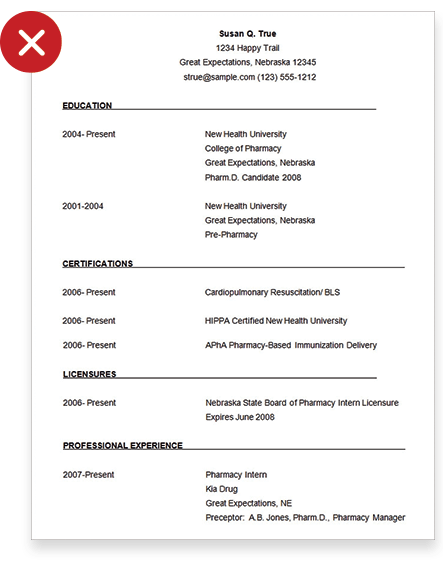 It is a very old fashioned way to write a professional resume and takes along time to create.
Anytime you need to update your resume it's template breaks and you have to redo it all over again.
Whenever you want to change the template you'll spend hours just trying to figure what section goes where.
Build My Resume NOW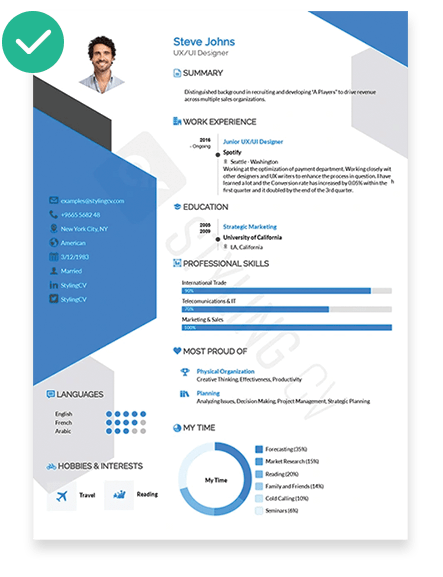 B. Personal Skills
Personal Skills, or Soft Skills, are a set of skills and personal attributes that help you balance your job and social life, such as communication skills, teamwork skills, emotional skills, social intelligence, etc. This means Personal Skills integrate with Acquired Skills for a better job performance.
Most jobs nowadays depend on collaboration and teamwork between employees, which was explained in an interview with a recruiting official, who said:
"Our employees understand the meaning of teamwork. We always use the word "we" instead of "I". We innovate together in an environment that values cooperation and commitment. Of course, anyone could say that, but as interviewers, we can actually note the opposite in some people during interviews.
So, before going to an interview, make sure you have enough personal skills, because lacking some may be the reason for your rejection. We are always looking for friendly people, as this might be the most important thing we look for in our employees…
yes friendly and competent people. You will deal with talented people, and you must have that in common with them, and you must be able to treat others right."
read more: List of 100 Best Words to Describe Yourself
how to put writing skills on resume – Top 8 Personal Skills
Positivity (such as optimism and self-confidence)
Responsibility (such as seriousness and discipline)
Personal traits (such as patience and empathy)
Professionalism (being structured at work and looking presentable)
Teamwork (collaboration and helping others)
Integrity (such as honesty and good morals)
Flexibility (such as adapting with different work conditions and wanting to change for the better)
Communication (written and oral)
10 General Skills to Add to Your CV
Work in a team
Ability to solve problems
Entrepreneurship
Leadership
Continuous learning
Adaptability
Self-motivation
Self-management
Oral and written communication
Computer skills
Your success story begins with a resume
Create a beautiful resume, impress your future employer, and score the job you've always wanted.
Build My Resume NOW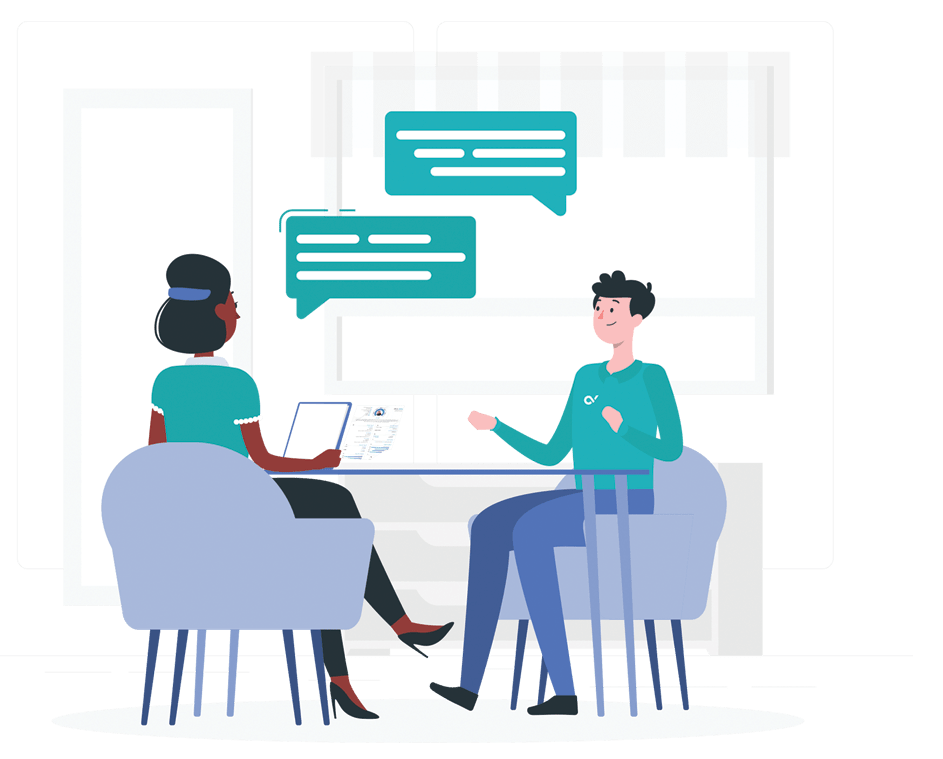 Determining the Appropriate Skills for the Job
You must understandhow to put writing skills on resume in order to get a job.
A. Brainstorming
First, you must gather all your acquired and personal skills. For example, you may have the following skills if you intend to apply for a marketing manager position: email marketing, analytical thinking, creativity, negotiation skills, public speaking, working under pressure, brainstorming, data analysis, measuring and comparing performance with competitors, social media marketing, leadership, using Hubspot and Google analytics, organizational skills, communication skills, proactivity, flexibility, teamwork, using Google Ads, using Excel, quantitative analysis.
B. Comparing and setting Priorities
Well, all skills are good and suitable for the job in general, but which ones will add value and should be added to my Resume?
The answer is highly practical, you have to trade between your skills and determine the most suitable ones for the job.
To carefully do this, you must first read the job ad and then identify the skills and experience that the ad specifically requires and then compare them with the ones you have, as we did in the following example (job posting on Amazon):
Amazon App Store is looking for an enthusiastic and creative marketing manager to work on Fire TV to help expand our business and provide a great customer experience.
The number of apps on Fire TV is daily increasing, so we need a marketing manager to increase the sales rate by highlighting the right apps for customers. In order to do that, you will need to understand the store customers and the applications we provide.
You will also find new ways to show content to millions of our customers based on this understanding.
read more: Essential Resume Sections in 2022
The Marketing Manager will control many major programs and projects with tasks including:
Collaborate with our device content suppliers
Provide more opportunities based on company internal data and partners' plans
Measuring and analyzing the effectiveness of content
Manage projects that overlap with technical and commercial teams within the company
We work in a fast environment that requires an entrepreneur who is punctual and can work flexibly and innovatively, taking into account the smallest details.
The Successful Candidate Must Have
Excellent oral and written communication skills
The ability to prioritize and deliver deadlines
Exceptional organizational abilities
know-how to predict results
Understanding and displaying data
The ability to work on more than one project at the same time
Ability to deal with rapid changes in work priorities
How to deal comfortably with stakeholders
Efficiency in the use of Excel as well as quickly understanding how to use our own tools
The ability to work with internal and external teams
Passion towards work and customer service
read more: How to Write an Effective Cover Letter in 2022
A list of the best personal and acquired skills for your CV and Cover Letter
Through our research and experience in recruitment, resume writing and cover letters, we recommend the following personal and acquired:
Organizational
Decision making
Time management
Delegating tasks
Planning
Communication
Listening
Clarity and conciseness
Written and oral communication
Computer
Data analysis
Programming
Word processing
Systems Management
Quickbooks
Adobe Suite
Microsoft Office
of the Web
Leadership
Accept criticism and feedback
Responsibility
Flexibility
Commitment
Life
Adaptability
Ability to solve problems
Flexibility
Accept criticism
Social
Teamwork
Empathy
Patience
Loyalty
How to Organize Your Skills on Your CV
Because of its great importance and is a key factor in your acceptance for the job, it is recommended that the Skills section be placed at the top of the CV.
If your CV style is based on a single column, start with the Skills section and make it the first section immediately after the introduction and before your work experience.
If your CV consists of one two-column page, place the Skills section on the left side next to your work experience if your CV is in Arabic and vice versa if your CV is in English.
The Best Resume Builder online
Finally, we recommend using the Resume Builder to get a professional resume and get examples of diverse skills.
FAQ
1- What skills do I put on a resume?
What should be listed as the best job skills?
computer literacy.
experience in leadership.
talents in communication.
organization skills.
People abilities.
ability for collaboration.
ability for fixing issues.
2- What are your top 5 skills?
Problem-solving and critical thinking.
cooperation and teamwork.
professional conduct and a solid work ethic.
written and verbal communication abilities.
Leadership.
3- What are the 6 critical thinking skills?
Identifying errors, inference, research, identification, curiosity, and determining relevance are the essential critical thinking abilities. We'll look at the six critical thinking abilities you should develop and why they're so crucial to the critical thinking process.
4- Do you need skills on resume?
Your resume's abilities section is essential for swiftly showcasing your knowledge to potential employers. Knowing how to write one also makes it easier to organically and naturally add important keywords into your resume. There are several different kinds of skill sets, and each one of them needs a place on your CV.
5- Should you explain your skills on a resume?
Find out which abilities are most in demand in your field and are appropriate for the job you're applying for. List up to 10 hard and soft abilities in a separate area devoted to skills. Include your most pertinent abilities in the work experience and summary parts of your resume.
Related articles
Tags
Build your resume in 10 minutes
Use professional field-tested resume templates that follow the exact 'resume rules' employers look for. Create My Resume
BUILD MY RESUME NOW