How To Write a Resume In 2023 | The Ultimate Beginner's Guide
how to make resume A step-by-step guide covering everything you need to know about how to write a resume in 2021, with resume templates, examples, and hacks you can steal. A good…
Resume Help
-

How To Write a Resume In 2023 | The Ultimate Beginner's Guide Get your free resume now
How To Write a Resume In 2023 | The Ultimate Beginner's Guide
A step-by-step guide covering everything you need to know about how to write a resume in 2021, with resume templates, examples, and hacks you can steal. A good resume is critical in job hunting for job seekers and recent graduates seeking new jobs and a career change. It acts as the first point of contact…

basil
Content Specialist
Published on: August 4, 2021 , Updated on: January 3, 2023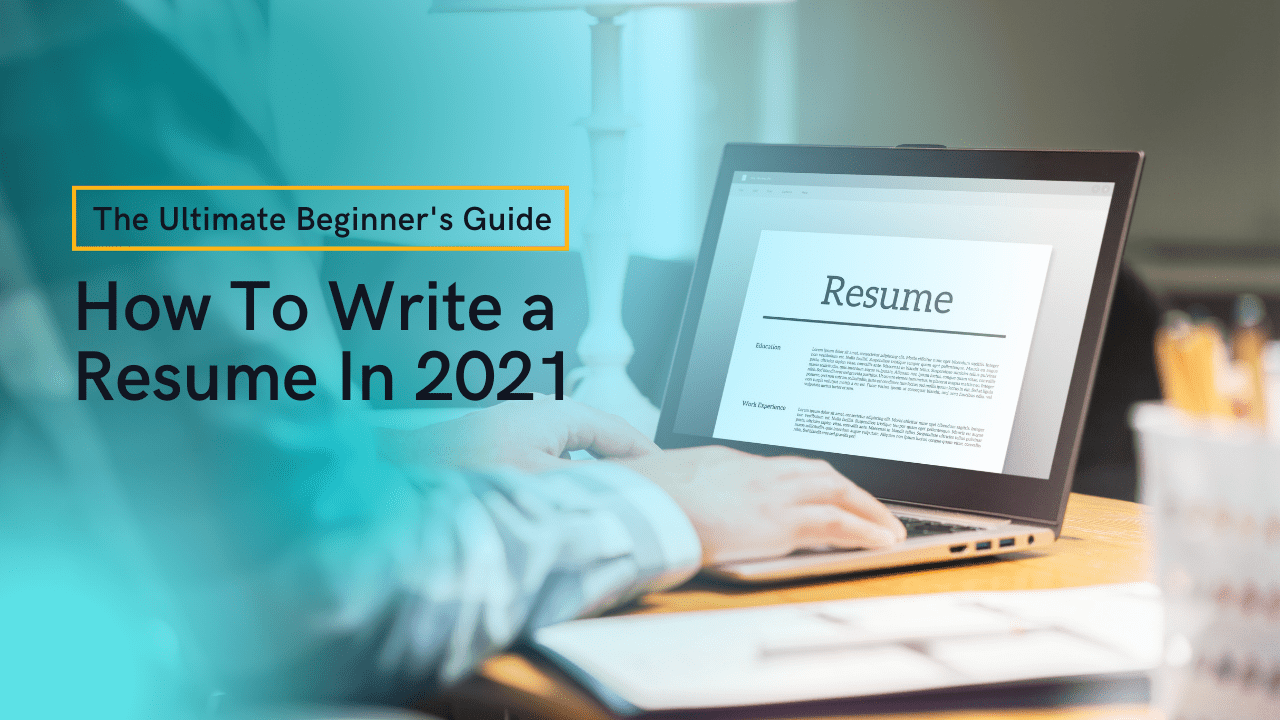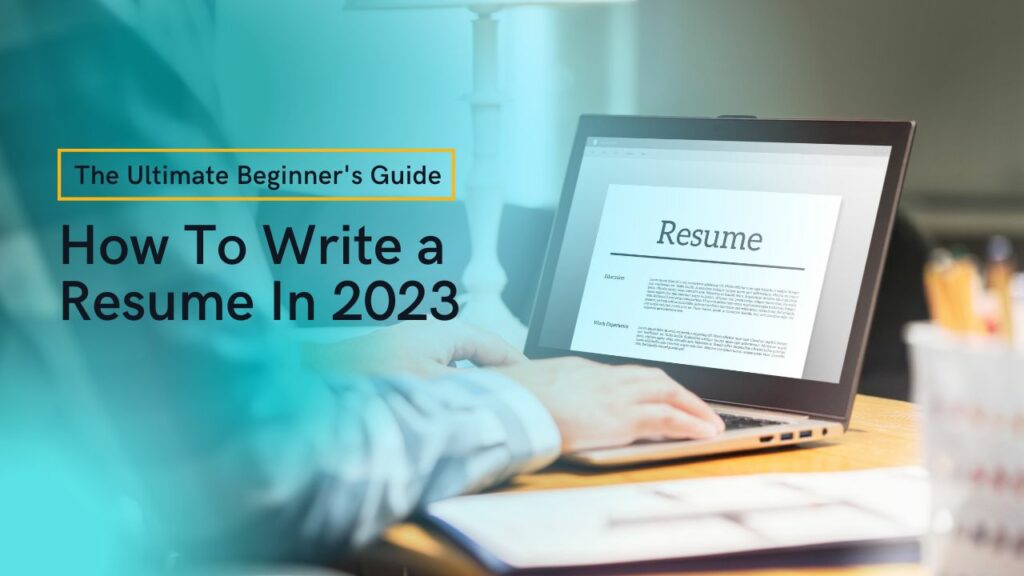 A step-by-step guide covering everything you need to know about how to write a resume in 2021, with resume templates, examples, and hacks you can steal.
A good resume is critical in job hunting for job seekers and recent graduates seeking new jobs and a career change. It acts as the first point of contact between a recruiter or potential employer and boosts your chances of getting hired.
With a poorly written resume, you'll be sitting around missing out on fantastic employment opportunities. So you're probably wondering how to make a resume that captures the HR's attention and lands you interviews with the best potential employers.
This guide will help you make an outstanding resume and understand the process of crafting a great resume. Here is a step-by-step guide on how to create a resume in 2021.
How to Write a Resume – Step by step
Pick The Correct Resume Template
Choose The Correct Resume Format
Choose The Correct Layout
Build Your Resume Content
Resume Summary or Resume Objective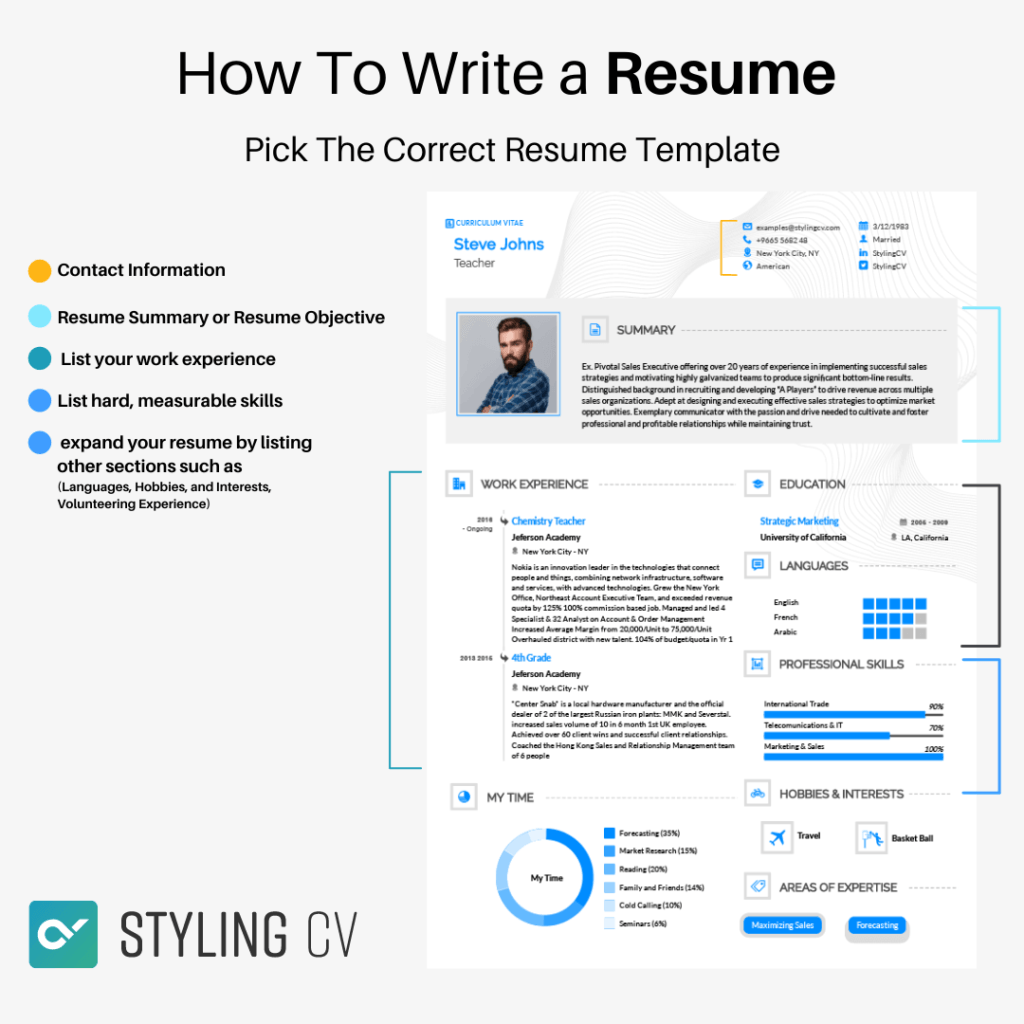 1. Pick The Correct Resume Template
The first step in writing a resume is deciding how to write the resume. Critics often discredit resume templates for reasons such as the absence of uniqueness and creativity. The myth is that every job seeker goes online, finds a template, and uses it to craft their resume. As such, recruiters see the same templates in every talent recruitment session.
However, these myths about resume templates are far from the truth. Resume templates are diverse and customizable to fit your needs. Furthermore, more than 100+ free resume templates are circulating online. Also, your resume is your work experience and is, therefore, unique.
The alternative for resume templates is a basic text editor. This method consumes time and requires creativity and originality, which you may struggle with. When you use a text editor, you spend countless hours working on the format, only to lose it when you make the slightest change.
Instead of struggling with resume formats and building resumes from scratch, we recommend using our 33 most used professional resume templates. You'll find it easy to summarize your career information when the template is already laid out for you.
What's more, we have a broad selection of resume templates for recent graduates, interns, and experienced professionals.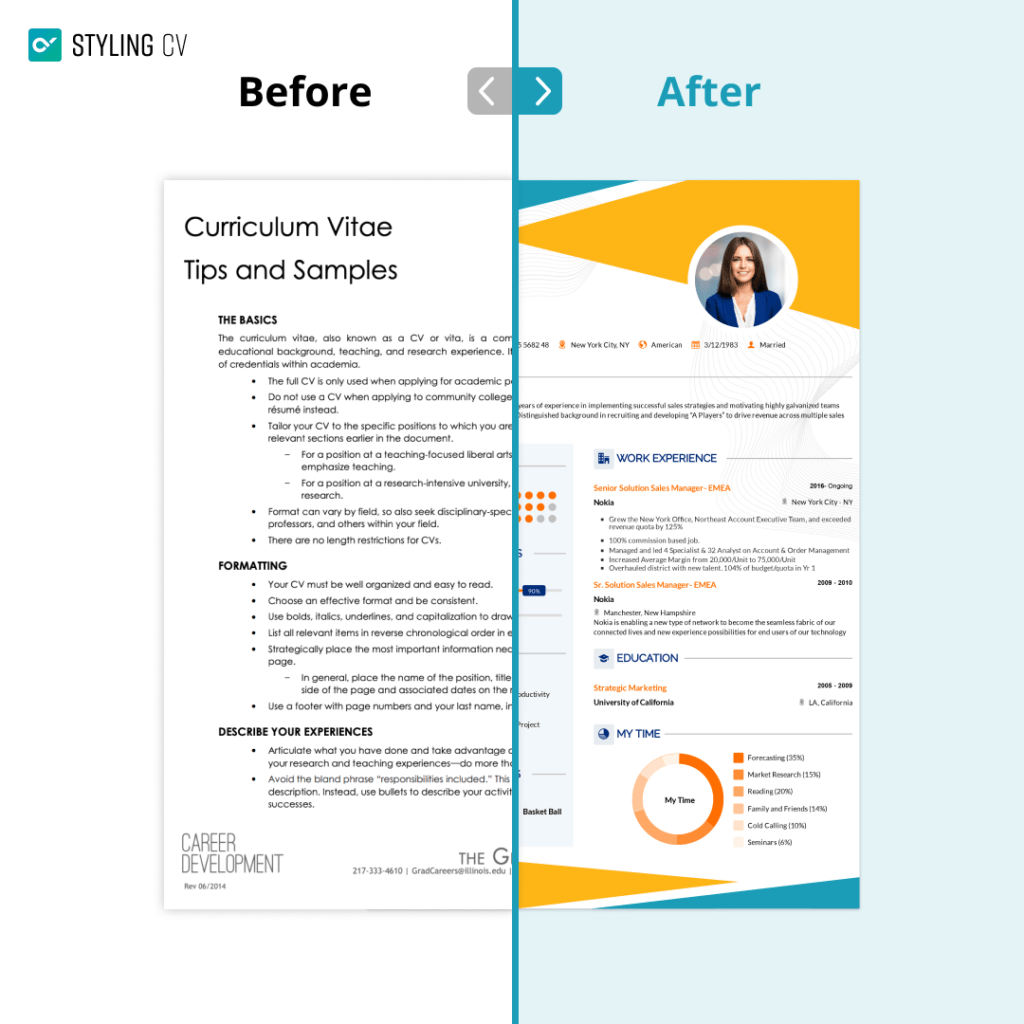 2. Choose The Correct Resume Format
After selecting StylingCV for your resume template needs, you need to choose the correct format for your resumes. Resume templates follow three main formats.
1) Reverse chronological resume format: This is a popular resume format among job seekers with extensive careers and work experience.
2) Skill-based/ Functional resume format: A skill-based resume format is excellent if you lack relevant work experience because you are a student/ recent graduate. This format is also great for workers seeking a career change.
3) Combination resume format: A combination format is great for you when you need to showcase your skills and experience in several fields. For example, this format is useful if you have worked in legal, banking, and finance departments and wish to apply for a senior management position in a company.
The reverse-chronological format is the most popular and an excellent choice for all. This means that your latest work experience appears first, and then you date back to your first work experience. The same reverse-chronology is also applied to your education and certifications.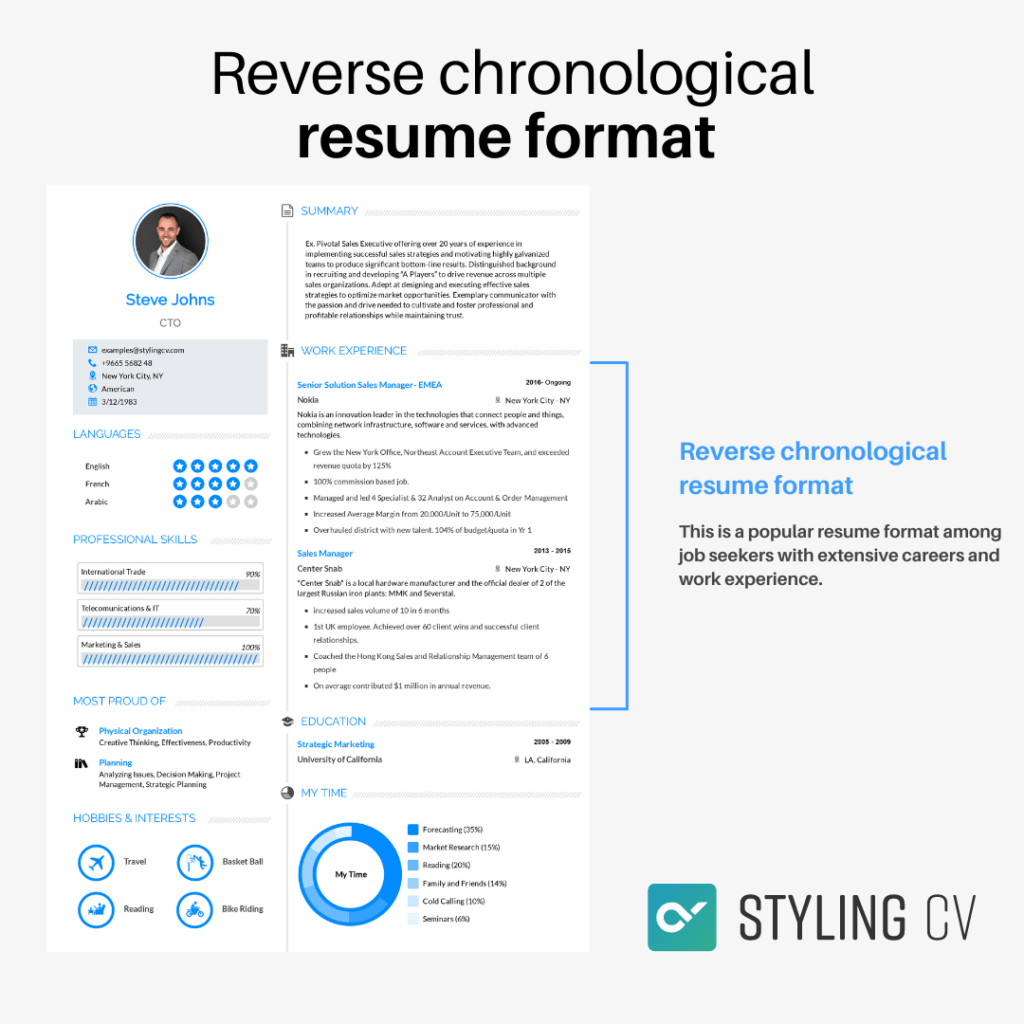 Fortunately, you can also pick a resume based on your specialty in StylingCV.
3. Choose The Correct Layout
The first thing any recruiter notices about your resume is the layout. Is it appealing, crowded or cluttered? Is it too spaced out or boring? Does it capture the recruiter's attention?
There are several tips to consider when choosing a resume layout.
Use clear section headings and keep them consistent to guide the reader. For example, you can choose the H2 format for all resume headings.
Have ample white space around the text to reduce clutter and create a neat appearance.
Use an easy-to-read font. Examples include Arial, Cambria, Calibri, Helvetica, and Didot.
Use the right font size. Use font size 11-12 for text and 14-16 for headings.
Always save your resume as a pdf to avoid changes when you transfer the document.
Select the format based on the industry you're applying to. For example, more traditional sectors such as legal and finance may appreciate the Alfred resume template, while modern industries such as tech may appreciate the Catics resume template more. Check our site for more templates.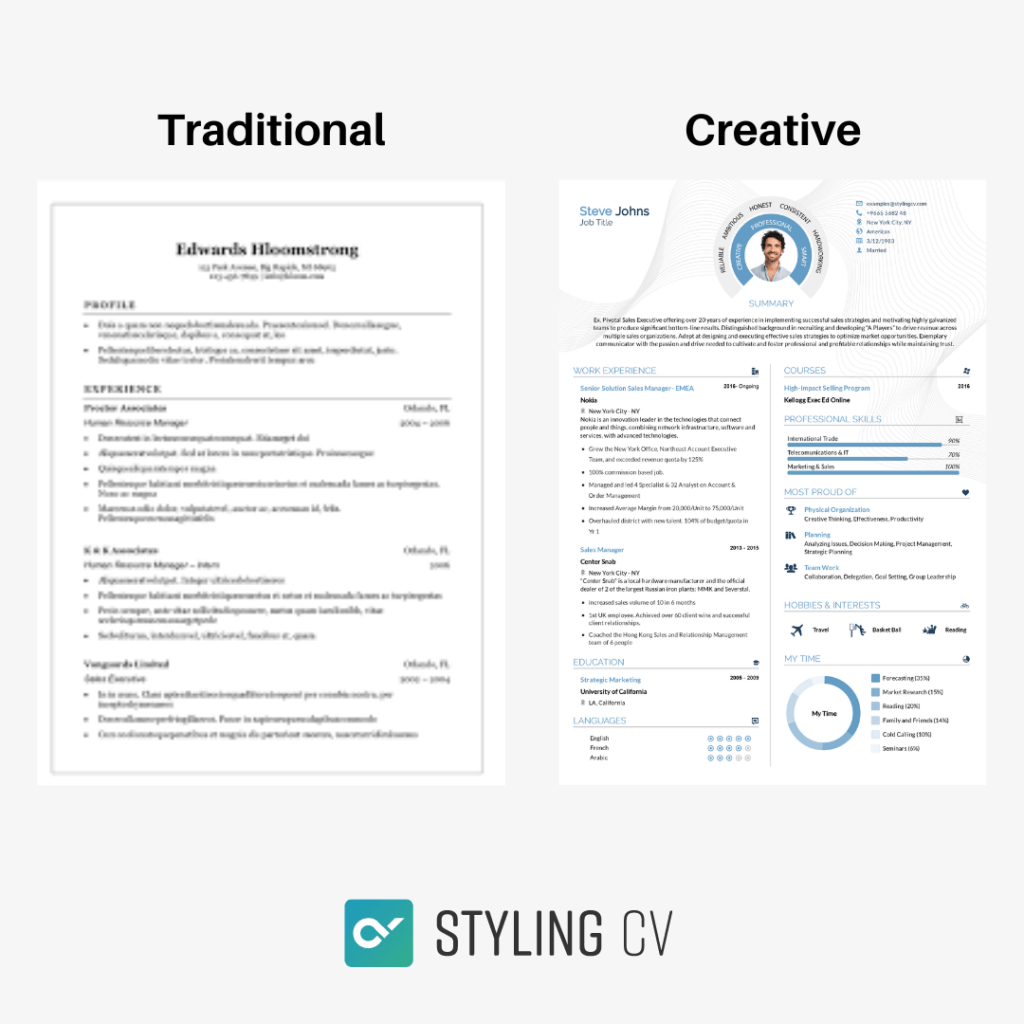 4) Build Your Resume Content
Your resume is a summary of your career, skills, and accomplishments as far as your career is concerned. It's also a contact card and an opportunity to showcase your personality and uniqueness. As such, what you include in your resume matters. Let's discuss the most popular sections for a resume.
Contact Information
One critical section in your resume is the "contact information". Your contact information should include:
Your name, preferably the first and last name
Address/ Location
Phone number
Email
Your professional title, if any
LinkedIn URL- This directs the recruiter to your LinkedIn profile, where you share detailed information about your accomplishments and responsibilities.
Social media handles, especially if you have a published portfolio. This could be Medium if you are a writer, Behance if you are a designer, or Github for developers.
You do not need to include a headshot to show the recruiter your appearance. Also, avoid using unprofessional emails.


Resume Summary or Resume Objective
Recruiters and employers spend an average of 6 seconds scanning your resume. Therefore, you have exactly 6 seconds to capture the recruiter's attention and impress them with this resume section. This means that no matter how many "how to write a CV" searches you do, you're wasting precious time if your summary does not tick the right boxes.
The resume summary is 2-3 sentences long and lists your strengths, accomplishments, responsibilities, and desired goals for working for the company. However, you should avoid resume summaries if you're a recent graduate with no job experience.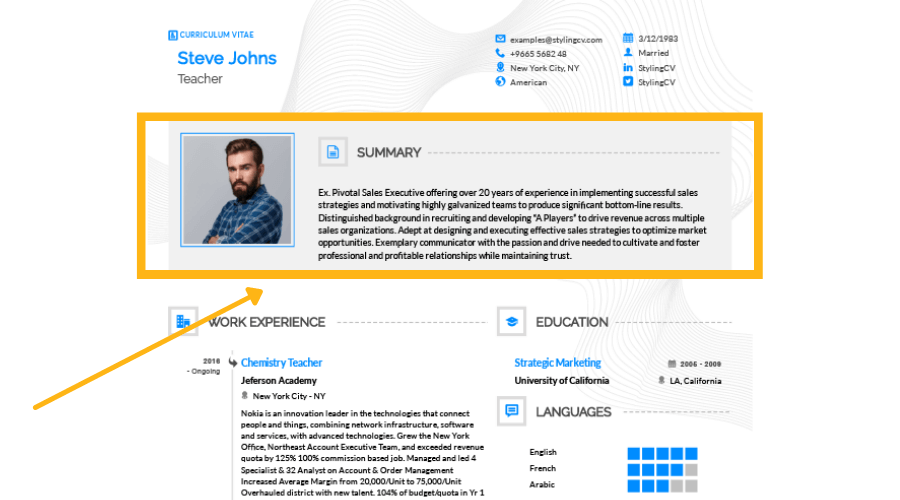 Tips for writing a resume summary:
Describe yourself: A "hardworking", "motivated", "fast-paced" etc. employee
Your job expeirnce: A certified developer with two years of experience
Achievements: Specialized in software development, UX, and customer care
Desired Goal: Looking for an opportunity to work as the lead designer and leverage my experience in managing design teams
Work Experience
Your work experience is an opportunity to list your accomplishments, responsibities, and roles. You can list your work experience as follows:
Job title: For each job entry, state your work title as the first part.
Company name: State the name of the company and the location where you worked in a specific role.
Achievement/ responsibility: Either list your achievements or responsibilities in the role. Be as detailed as possible. For example, "Created a new keyword and title template for organic inbound marketing and boosted blog engagement by 20% within 3 months".
Employment dates.
When you explain your experience, be detailed instead of listing the general responsibilities in your role. You want the recruiter to know what you accomplished and distinguish yourself from the crowd. You can also state your proficiency level based on the NIH Proficiency Scale.
Remember to tailor your resume to the role.
When you submit your resume to a job board, an Applicant Tracking System filters the resumes before any recruiter sees them. The ATS (for resume) is software that helps recruiters filter through hundreds of resumes submitted to job boards.
You should tailor each resume to the job you're applying for to cross the first filtration process. You can do this by including the right keywords in your resume. Peruse the job description, note the crucial education, skill, and experience requirements, and mirror them in your resume.
For example, if the job description asks for more than five years of experience in software development, your resume should state, "5+ years of experience in software development".
If the job description is looking for a digital marketer with social media experience, campaign management, and organic marketing, list these keywords in your accomplishments or skills.
The work experience you list depends on your current situation. For example, for job hunters with no experience, it's better to focus on other sections. However, it's better for CEOs with decades of experience to list the five most recent roles relevant to the job you're applying for and ignore your first experience as a cashier.
Education
List your education in reverse chronological order. For example, an education entry may appear as follows.
Program Name: Bachelor's Degree in Education
Name of Institution: Warren State College
Years of Attendance: 2000-2014
(Optional) Honors:Cum Laude, Magna Cum Laude, Summa Cum Laude
(Optional) Academic achievements: Papers you've written and have been published
(Optional) GPA: 3.5
The education section is vital if you have no work experience. Always start with the latest education achievement, and generally, avoid mentioning your high school education if you have a university education. Lastly, only mention optional features if they help you stand out and are impressive.
Skills
The skills section is a must-have in any resume. You can list hard, measurable skills. Examples of hard skills are coding in Python and JavaScript or knowing how to make a latte.
With Styling CV resume templates, you can mention your hard skills and show your expertise level. For example, beginner, intermediate, advanced, or expert.
You should also mention transferrable soft skills such as excellent communication, team management, critical thinking, and social skills. Overall, remember only to mention skills that are relevant to your job application. For example, coffee-making skills are great but not crucial for accountant positions.
Other Sections
You can expand your resume by listing other sections such as:
Languages: Are you native, basic, intermediate, proficient, or fluent in the languages?
Hobbies and Interests: This section is great for job seekers with little to no experience, especially because you can use it to showcase your skills.
Volunteering Experience: Volunteering experience showcases your philanthropy, loyalty, devotion, and values.
Certification and Awards: Have you received certificates and awards for participating in competitions and events? List them.
Projects and publications: If you have personal projects relevant to your job and publications worth showcasing, you can list them and link to their respective sites.
FAQ:
1- What does a resume look like in 2023?
There are three standard resume formats: functional, reverse chronological, and combination (or, hybrid). In 2023, the reverse-chronological format will be the most widely used, thus we usually advise using that one.
2- What is the best resume format for 2023?
Reverse-Chronological Resumes
Reverse chronological resumes are now the most popular resume style among job seekers. They are also likely the simplest for hiring managers and recruiters to understand at a glance, which is in and of itself advantageous.
3- How many pages should my resume be 2023?
two pages
In 2023, how long should a resume be? There isn't a perfect response. Your resume should be one or two pages long, depending on the position and your work history. A multi-page resume performs better than a one-page resume if you have more than ten years of relevant experience.
Get Your Dream Job Now
At StylingCV, we help you get your dream job by helping you with your resumes, CVs, and cover letters. You can explore our resume examples, cover letter examples, and resume builder to help you get your desired position. If you need help writing a cover letter, exploring job interview questions and answers, and crafting the best resumes and CVs, look no further.
Related articles
Build your resume in 10 minutes
Use professional field-tested resume templates that follow the exact 'resume rules' employers look for. Create My Resume
BUILD MY RESUME NOW