we provide you 33+ resume templates
33 most used Professional Resume Templates
the easiest way to create a CV or resume in different languages is to use our professional resume template that helps you focus on content, not only the design.
A professional CV is always the first step used when applying for any job, highlighting your abilities, skills, a summary of your previous experiences, academic qualifications, and personal and professional achievements and a good resume gives you the privilege to earn your dream job
Catch Your Template Now!
Start with our 100s of widgets and color options to start your Resume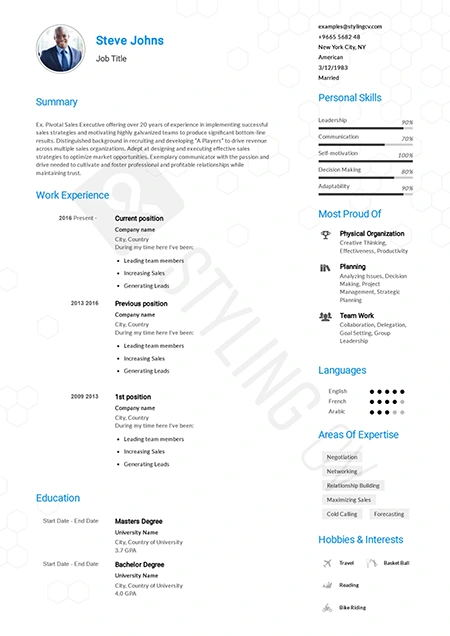 Select
A minimal design for teachers and educators. Clear infor-ghraphics that showcases your skills with clarity in your resume.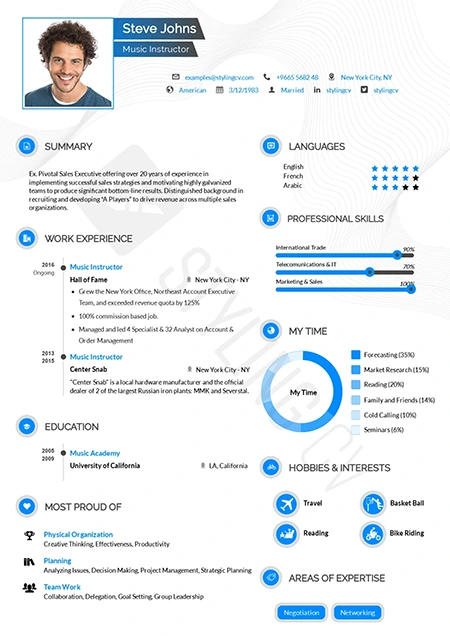 Select
Pre-classic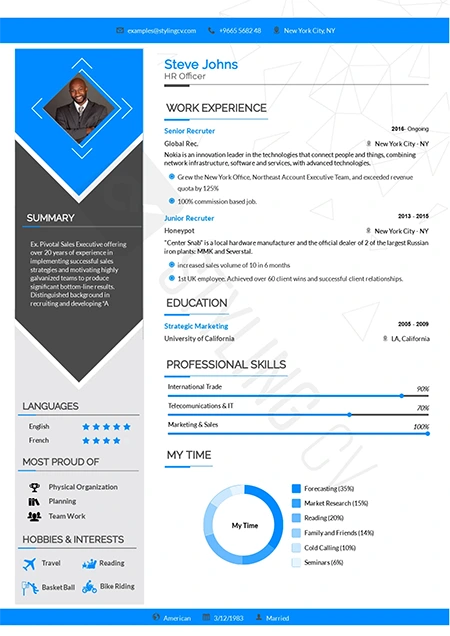 Select
A simple resume that showcases both the ability and skills in an easy and readable formate
---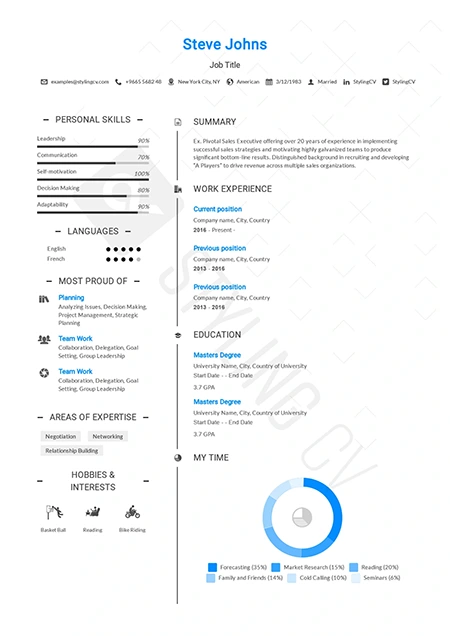 Select
The pointy header with it's strong colors are a dominant show for your resume. Your skills have a great place on the left in this resume template.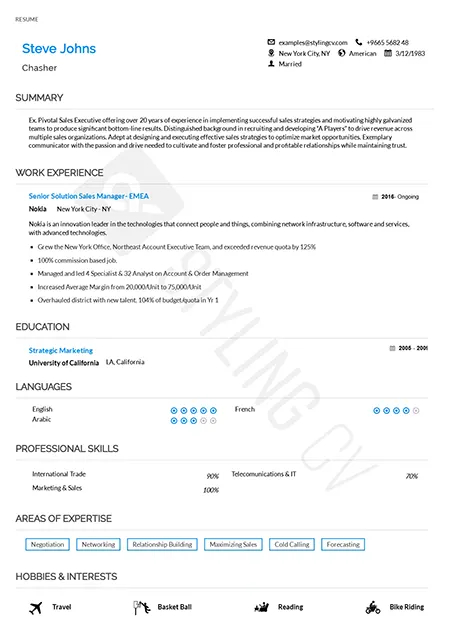 Select
Learnt languages, professional and soft skills and hobbies have a place on the left. While your educational and professional skills are on the right in this resume template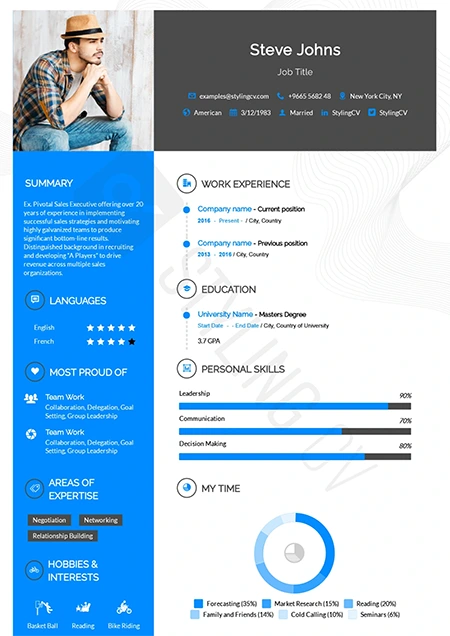 Select
A bright and colorful resume template. Be seen by the recruiters instantly with a diverse list of colors
catics-en
---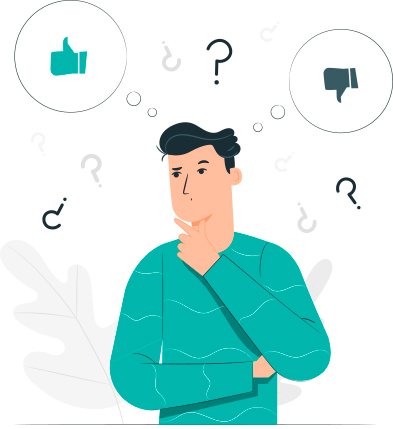 What is a CV?
A CV is a brief summary of you to shine showing professional and personal experiences, skills, and academic education.
a well written CV including a cover letter could be the difference between getting an interview and not being considered for the role. Read more about how to write a CV.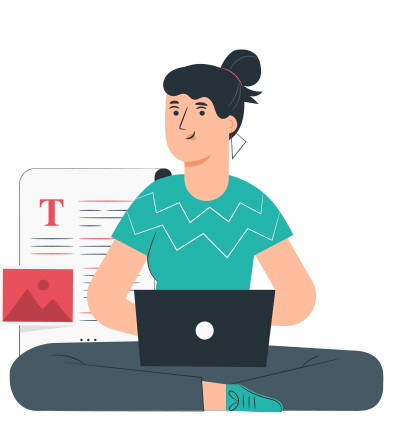 How to write a CV for your first job?
The process of writing a CV can seem very intimidating to you. After all, most of the resume examples you see on websites are 80% related to work experience. So, what can be included in your CV if you do not have any previous experience?
Well, here's some good news. If you are applying for your first job, no one expects you to have any previous work experience.
Instead, you should focus on what you have:
Education
Projects
Volunteer experience
Hobbies and interests.
About the Complete Guide How to Create a Resume Without Work Experience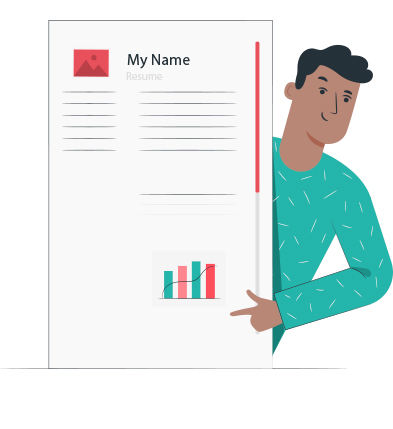 What do you write in a CV?
during intense ​competition in the market, with major and fundamental changes, writing a professional CV became a key factor in your success in getting the job of your dreams
Here is a few essential things you should aim to cover in your CV:
Contact information
Summary of resume and goal
Previous experience
Academic education
If you want to personalize your resume, you can also include the following sections:
Projects
Volunteer experience
Hobbies and interests
For more information on how to put these sections into a resume, see our article on What to Put in a Resume.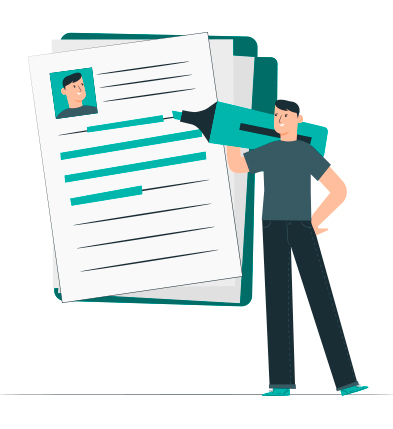 How to Coordinate the format a resume?
There are 3 typical resume formats:
Reverse time format
Skills-based job coordination format
The comprehensive coordination combines the two previous formats
In 99% of the cases, you will want to use the reverse time format. Resume mainly focuses on your work experiences, and is written in reverse time order (i.e. experiences are ordered from newest to oldest)
Unless you want to create a resume with a skill-based job format, we recommend sticking with the reverse time format.
If you want to know more about CV formats, check out our comparison guide.
Always make your CV matches the job you want
Do you want to send 50 CVs to get only two job interviews? OR do you want to send eight CVs and get three or four job interviews?
If you choose the second option, it is easy. Always make sure to write your CV to suit the job title of the job you want to apply to.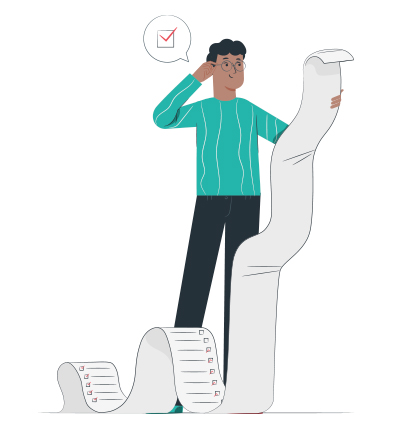 How long should a CV be?
How many pages should a CV be?
The most common CV question in the world: "How long should your CV be?"
answer: one page. If you have a lot of work experience (10 years +), sometimes it makes sense to make it a maximum of two pages if everything you mentioned is relevant to the position you are applying for.
Note: All of our templates are one-page resume. when you add more experiences, a second page will be added automatically, so you will not have problems adhering to the one-page limit!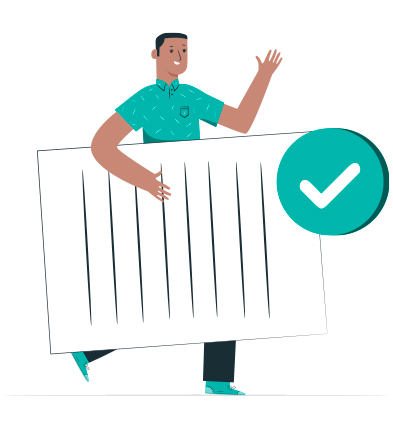 attract readers by adding a summary at the top of the CV. Think of it as an introduction to your resume. You should highlight in two to four sentences your skills, experience and suitability for the job you are applying for.
make your personal summary shines while using this perfect formula:
[Job title] with X + years of work experience in [Job Responsibility]. In X of years, I had [the most important two or three] accomplishments. I find myself a good fit for [title] in [company name].
To learn more about how to create a professional resume summary, check out our guide.
On the other hand, if you are a student or do not have much work experience, read more about how to create a student CV.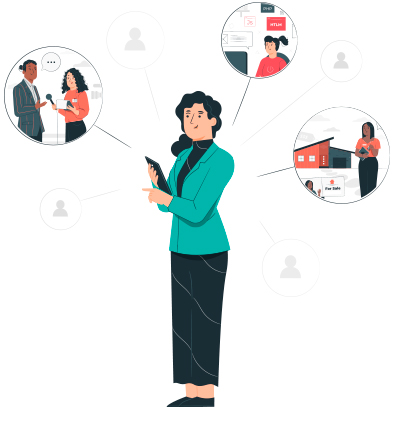 How to write work experiences in a CV
How to write work experiences in a CV
practical experiences on a resume One of the things that is easy to learn and hard to master
Job title
The name of the company / institution / employer
Achievements or responsibilities
Date of work
Now, if you want to write an outstanding work experience, you should focus on measurable accomplishments
Use this formula: I solved the problem (x) by doing (y) to get the result (z).
Example: Negotiate a plan with suppliers to reduce office expenses by $ 5,000 annually.
Show your accomplishments through numbers. Do not provide sensitive information.
increased sales by 20% in 12 months.
This shows the employer that you are not just a random candidate, you are an excellent person!
To learn more about how to write accomplishments in your work experience (and get the job) see our article.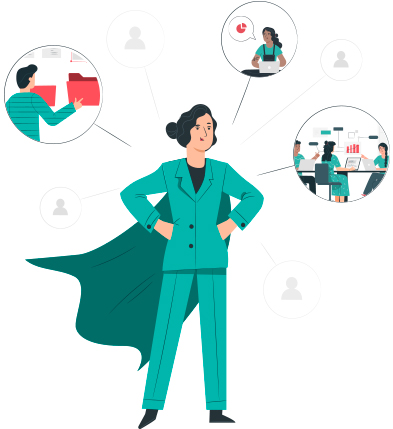 Simply create a "Skills" section on your CV template, list your most important skills.
We usually recommend writing technical and personal skills.
Not sure which skills to include on your resume? Check out the 50 best skills to enrich your CV.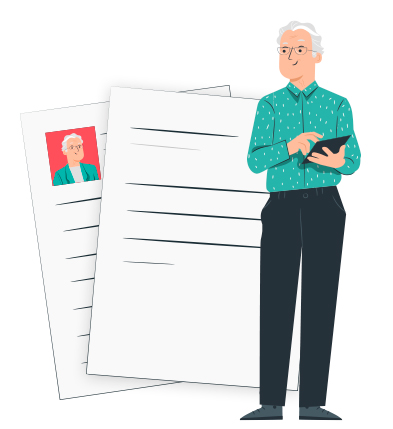 How to create a cover letter for your CV?
Every job application requires a cover letter (in addition to your CV). Here are some tips on how to do it right:
Personalize your cover letter to the employer. The more personal, the more likely it is that your experiences will be liked
Identify your general experiences (work experience, job title, etc.) and list the 2 to 3 most important accomplishments to demonstrate your skills
If you really want to stand out, create a cover letter that matches your resume template. To do this, you can use one of our cover letters.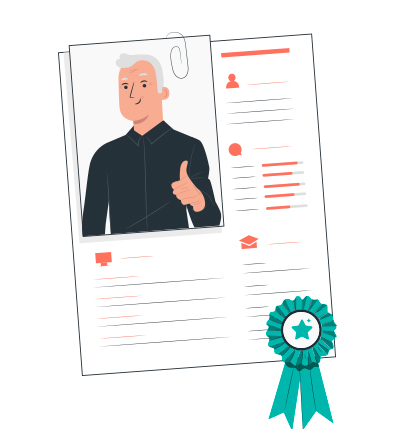 What is the best resume template?
There is no such thing as a "best resume template" – every employee / employer has their own characteristics. We recommend that you research about the company you are applying to
For example, if you are applying for a job at a bank, you may want a more professional resume template. On the other hand, if you want a job at a startup company where they value innovation the most, you should stick with this creative resume template.
Finally, if you are still not sure which type of template is right for the job you are applying for, you can use one of the professional resume templates that will fit that job.
Resume Resources
What is a Resume?
A resume is a brief summary of personal and professional experiences, skills, and education history. Its main purpose isn't just to show off your best self but also to keep you employed by showing what sets you apart from other applicants who may be vying for the same position!
You know how to make a resume, but are you applying the right strategies? We have all heard of "good" resumes and bad ones. But what about the great ones-the best way for job seekers who want their chances at success in finding work increased by twofold or more! Check out this guide on creating an awesome resume that really gives recruiters something worth checking off their list when reviewing applications.
How to Write a Resume for Your First Job?
The process of writing a resume might seem super scary to you. After all, most resumes are 80% about work experience and 20% summary of other accomplishments which can make it hard for those without any professional achievements or training in this area at all!
I know it's not easy especially when there's such an emphasis placed on getting your foot into that door as soon as possible but don't worry -we've got some ideas on how to get started with making sure yours stands out from others…
According to many people, including me when I was just starting out in the industry and applying for jobs or internships myself- no one expects you have ANY work experience. The idea is that an employer will give spots based on ambition alone so doing some research beforehand really helps!
If you're looking for a career change and don't have any work experience, make sure your resume stands out. Check out our guide on how to writing a resume without work experience.
What to Put on a Resume?
Contact Section
Work Experience
Academic Qualifications
Skills
Awards & Accomplishments
Languages
Voluntary Work
Hobbies
Extracurricular Activities & Projects
For more information on how to place these sections on your resume, check out our article. 10 Essential Resume Sections in 2021
How to Format a Resume?
Among the most effective resume formats for 2020, we have selected and listed below the top picks for you from which you can select the best resume format according to your respective requirements and job demand:
Reverse Chronological or Career Ladder Resumes
Skill and Competencies Based Resumes
Functional Resumes
All Rounder Resumes
Hybrid or Combination Resumes
The Reverse Chronological resume is the most common type seen in professional settings. It emphasizes your work experience and is written down in reverse-chronological order, for example with date ranges that show progression up through an organization or job title over time.
If you want to learn more about resume formats, check out our article Best Resume Formats for 2020.
How Long Should a Resume Be?
Short answer: one page.
How to Write a Resume Summary?
A resume summary is a brief description of your experience, skills, and qualifications. It speaks to the HR executive, telling them why they should hire you. If your professional summary is clear, concise, and meets their standards, you'll pique their interest, encouraging them to read your resume further.
To learn more about how to create a resume summary, check out our guide 40 Resume Summary Examples (How-to Guide)
How to List Work Experience on a Resume
Your work experience is an opportunity to list your accomplishments, responsibilities, and roles. You can list your work experience as follows:
Job title: For each job entry, state your work title as the first part.
Company name: State the name of the company and the location where you worked in a specific role.
Achievement/ responsibility: Either list your achievements or responsibilities in the role. Be as detailed as possible. For example, "Created a new keyword and title template for organic inbound marketing and boosted blog engagement by 20% within 3 months".
Employment dates.
How to List Skills on a Resume?
According to the latest survey conducted by a career website, people often tend to choose bizarre skills to put on resume which have no particular relevance to their intended job position or career domain. This results in either the employer dumping the resume in the dismissed pile or discarding it after a cursory glance. Therefore, picking out the best job skills that align with any sort of career choice seems like a tricky task. In order to make things easier and more effective, we have compiled a list of 101 Essential Skills to Put on a Resume [For Any Job]. These job skills can be fitted into your resume for any job that you are applying for.
How to Make a Cover Letter For a Resume?
Job hunting sucks. Perusing through online job listings, refining your resume, as well as preparing for grueling interviews—none of it is fun. For many, the most daunting part of the process is crafting a cover letter. There's so much conflicting advice out there; it's difficult to know where to start.
If you want to learn more about how to write an effective cover letter, check out our comprehensive guide.