we provide you 33+ CV templates
Unraveling the Ideal CV Template: Integrating Work History, Work Experience, and More
Crafting a powerful curriculum vitae (CV) can be a challenging task, especially if you're unsure of what it should encompass. The right CV template can be the key to not only highlighting your work history and experience but also standing out from the rest of the applicants. In this comprehensive guide, we delve into the structure of an effective CV, the nuances of writing one, and the role of a cover letter in complementing your CV.
The Fundamentals of a CV Template
A Curriculum Vitae, Latin for "course of life", is a detailed document highlighting your professional and academic history. Unlike a resume, which is typically concise and tailored to a specific job, a CV is more comprehensive, including publications, presentations, and other relevant details.
An ideal CV template, at its core, contains several key sections:
Contact Information

: This includes your full name, professional title, email address, phone number, and possibly a LinkedIn profile or personal website.



Personal Profile

: This is a brief, high-level overview of your background, skills, and career objectives.



Work History

: Here, you'll detail your employment journey, outlining your roles, responsibilities, key achievements, and the companies or organizations you worked for.



Education

: This section lists your academic credentials, including the institutions you attended, the degrees you earned, and the dates of your studies.



Skills

: It's crucial to highlight both soft and hard skills that you possess, relevant to the job you are applying for.



Certifications and Achievements

: Mention any additional certifications, awards, or recognitions that can boost your profile.



References

: These could be professional or academic, and must be provided with their consent.
Importance of Work History and Experience
Work history and work experience are key pillars in writing a CV. Employers often place a significant emphasis on these sections as they provide a glimpse into your potential as an employee. Your work history should be detailed chronologically, starting with your most recent position. For each role, specify the job title, employer, dates of employment, and your core responsibilities and achievements.
While listing your work experience, it's essential to focus on what you achieved during your tenure and the skills you developed or honed. Avoid generic statements and make your accomplishments measurable where possible, demonstrating your value through concrete examples.
Juxtaposing CV and Resume Templates
While 'CV' and 'resume' are often used interchangeably, they differ in content, length, and purpose. A resume template is typically shorter and more concise, focusing primarily on relevant experience and skills tailored to a specific job application. On the other hand, a CV template offers a more detailed overview of your professional and academic life, ideally suited for positions in academia, research, or those requiring comprehensive career information.
The Power of a Compelling Cover Letter
A cover letter should never be an afterthought. Instead, it should serve as a personalized introduction, a platform where you can convey why you're the perfect candidate for the job. It allows you to explain in your own words how your skills, experiences, and achievements align with the company's needs. Remember, the cover letter isn't a repetition of your CV; it's your opportunity to tell a story, showcase your personality, and build a connection with the hiring manager.
Final Thoughts on CV Writing
When writing a CV, it's essential to tailor it to the job you're applying for. Take the time to research the company, understand the role, and align your experience, skills, and achievements accordingly. Keep your CV concise, clear, and professional, avoiding unnecessary jargon or long-winded sentences. Prioritize quality over quantity, ensuring each word holds value and relevance to the job application.
Formatting and Presentation
The visual aspect of your CV can be as influential as its content. In today's digital age, a well-formatted, easy-to-read CV can make a significant difference. Keep the layout clean and structured, with plenty of white space and clearly defined sections. Use a professional font and maintain consistency throughout your document. Bullet points can aid readability, and subtle color accents can make your CV stand out without being overwhelming.
A Glance at Digital CVs
As the business world increasingly embraces digital solutions, digital CVs are becoming more prevalent. These offer a more interactive experience, enabling you to incorporate elements like links to portfolios, presentations, publications, or even video introductions. Ensure your CV is compatible with both print and digital formats to cater to different employer preferences.
Proofreading Your CV
Proofreading is a crucial yet often overlooked step in writing a CV. A single typo or grammatical error can undermine your professionalism and credibility. Use spell-check tools, but don't rely solely on them. Read your CV out loud, have a peer review it, or even consider professional proofreading services. This diligence helps ensure your CV is polished and error-free.
Key Takeaways
A comprehensive and well-structured CV template, incorporating key sections like work history and work experience, can be a powerful tool in your job search. Coupled with a compelling cover letter, it presents you as a well-rounded, detail-oriented candidate. Remember, your CV is more than a list of your professional experiences; it's a representation of your dedication, skills, and potential.
In essence, writing a CV is an exercise in personal branding. Each element should work harmoniously to project the best version of your professional self. Whether you're a seasoned professional or just starting on your career path, investing time and effort into your CV can open the doors to exciting opportunities. Harness the power of the ideal CV template, and make your job application stand out from the rest.
Attrapez votre modèle maintenant !
Commencez par nos 100s de widgets et d'options de couleurs pour commencer votre CV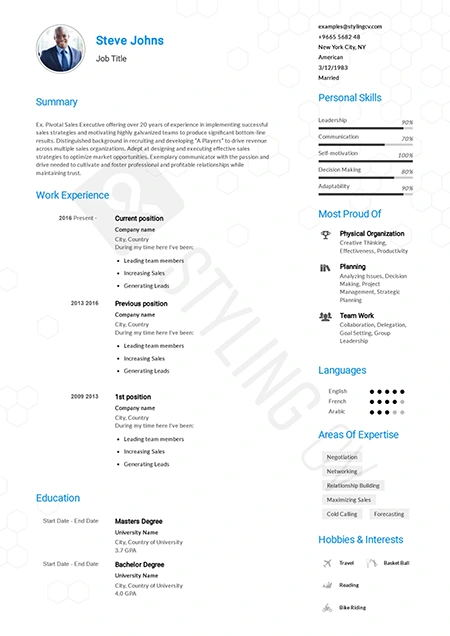 Sélectionnez
Un design minimal pour les enseignants et les éducateurs. Des informations graphiques claires qui mettent en valeur vos compétences avec clarté dans votre CV.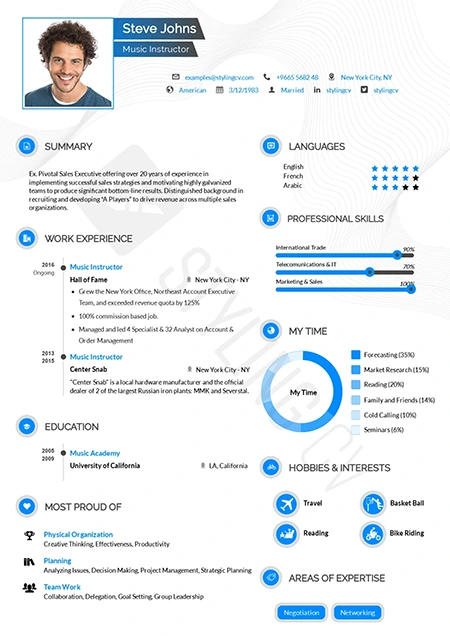 Sélectionnez
Pré-classique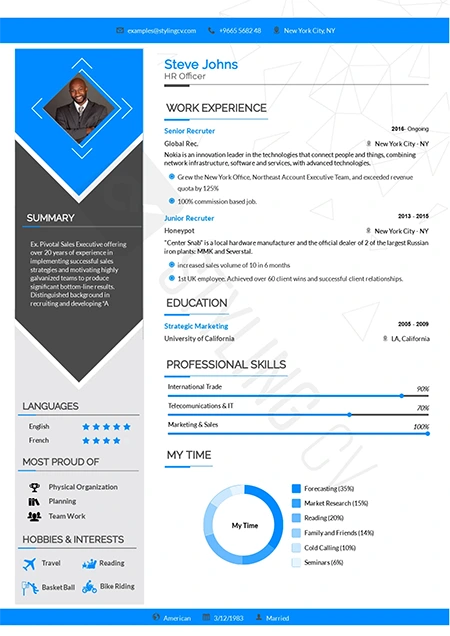 Sélectionnez
Un CV simple qui présente les capacités et les compétences sous une forme facile et lisible.
---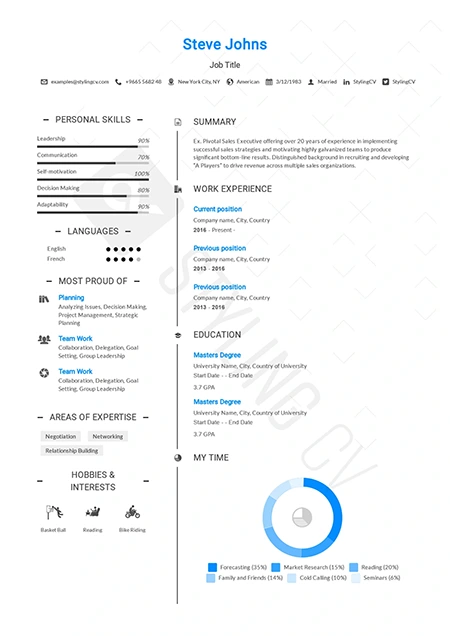 Sélectionnez
L'en-tête pointu avec ses couleurs vives est un spectacle dominant pour votre CV. Vos compétences ont une place de choix sur la gauche dans ce modèle de CV.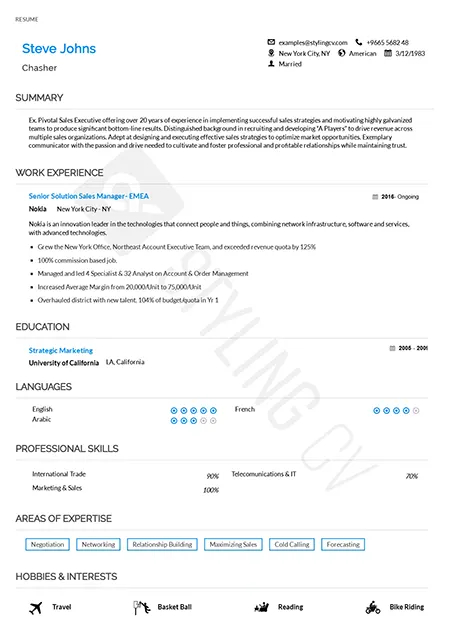 Sélectionnez
Les langues apprises, les compétences professionnelles et non techniques et les loisirs ont leur place sur la gauche. Alors que vos compétences scolaires et professionnelles se trouvent à droite dans ce modèle de CV.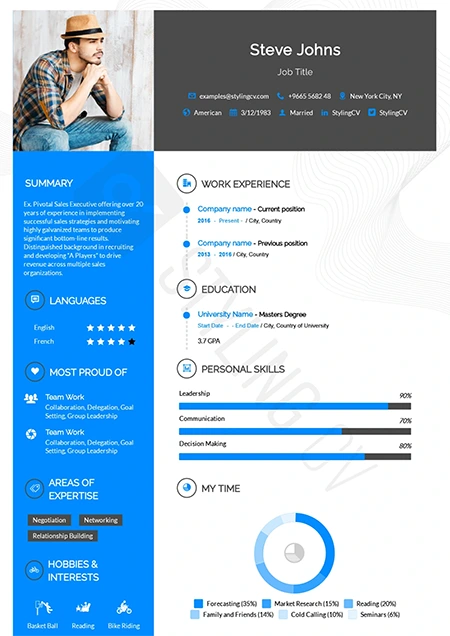 Sélectionnez
Un modèle de CV lumineux et coloré. Soyez vu par les recruteurs instantanément avec une liste de couleurs variées.
catics-fr
---

Sélectionnez
classique

Sélectionnez
concept

Sélectionnez
confiance
---

Sélectionnez
corssa

Sélectionnez
diamant

Sélectionnez
élégant
---

Sélectionnez
féminin

Sélectionnez
fonctionnel

Sélectionnez
génial
---

Sélectionnez
afflux

Sélectionnez
katrina

Sélectionnez
ksa
---

Sélectionnez
metrix

Sélectionnez
moderne

Sélectionnez
nouvelle distribution
---

Sélectionnez
polygone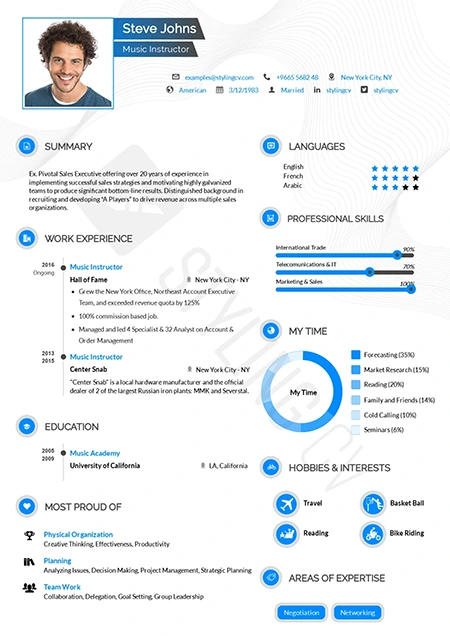 Sélectionnez
préclassique

Sélectionnez
rebbo
---

Sélectionnez
sireva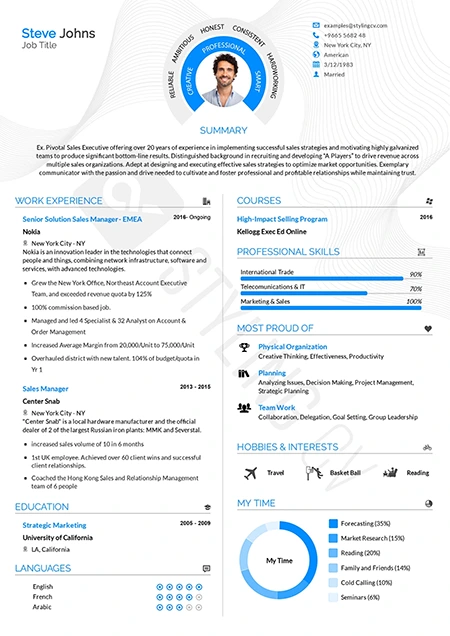 Sélectionnez
intelligent

Sélectionnez
standard
---

Sélectionnez
statique

Sélectionnez
élégant

Sélectionnez
ultime
---

Sélectionnez
végétalien

Sélectionnez
visibilité

Sélectionnez
corssa
---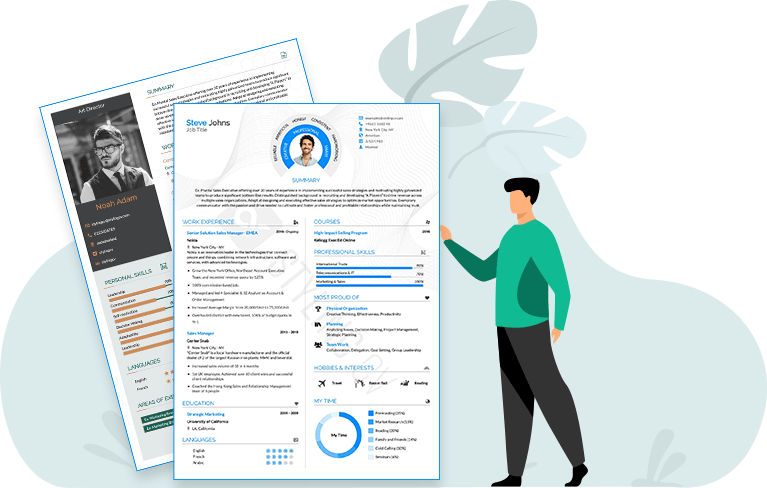 Essayez StylingCV maintenant et gratuitement.
C'est facile !
Créer mon CV maintenant
Aucune carte de crédit n'est requise.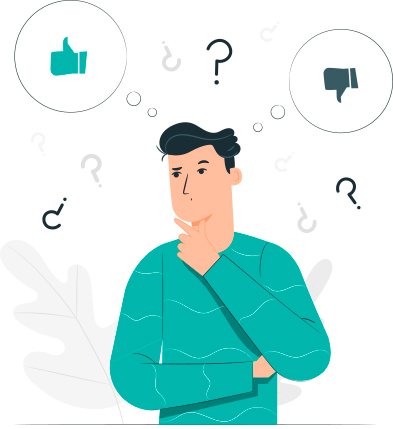 Qu'est-ce qu'un CV ?
Un CV est un bref résumé de votre personne qui montre vos expériences professionnelles et personnelles, vos compétences et votre formation universitaire.
Un CV bien rédigé, accompagné d'une lettre de motivation, peut faire la différence entre obtenir un entretien et ne pas être retenu pour le poste. En savoir plus sur la façon de rédiger un CV.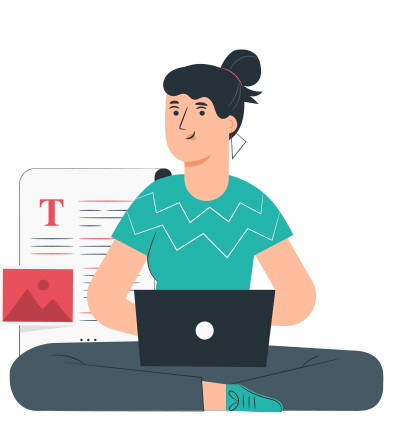 Comment rédiger un CV pour votre premier emploi ?
The process of writing a CV can seem very intimidating to you. After all, most of the CV examples you see on websites are 80% related to work experience. So, what can be included in your CV if you do not have any previous experience?
Eh bien, voici une bonne nouvelle. Si vous postulez pour votre premier emploi, personne ne s'attend à ce que vous ayez une quelconque expérience professionnelle antérieure.
Au contraire, vous devez vous concentrer sur ce que vous avez :
Éducation
Projets
Expérience de bénévolat
Passe-temps et intérêts.
About the Complete Guide How to Create a CV Without Work Experience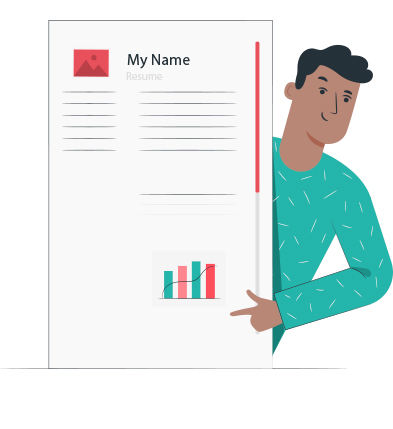 Que faut-il écrire dans un CV ?
dans un contexte de concurrence intense sur le marché, avec des changements majeurs et fondamentaux, la rédaction d'un CV professionnel est devenue un facteur clé pour réussir à obtenir l'emploi de vos rêves.
Voici quelques éléments essentiels que vous devriez chercher à couvrir dans votre CV :
Informations de contact
Summary of CV and goal
Expérience antérieure
Formation académique
If you want to personalize your CV, you can also include the following sections:
Projets
Expérience de bénévolat
Passe-temps et intérêts
For more information on how to put these sections into a CV, see our article on What to Put in a CV.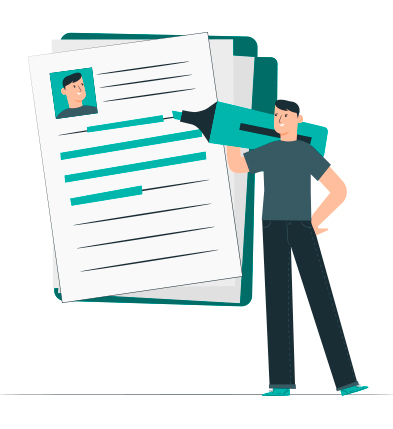 How to Coordinate the format a CV?
There are 3 typical CV formats:
Format d'heure inversé
Format de coordination de l'emploi basé sur les compétences
La coordination globale combine les deux formats précédents
In 99% of the cases, you will want to use the reverse time format. CV mainly focuses on your work experiences, and is written in reverse time order (i.e. experiences are ordered from newest to oldest)
Unless you want to create a CV with a skill-based job format, we recommend sticking with the reverse time format.
Si vous souhaitez en savoir plus sur les formats de CV, consultez notre guide comparatif.
Faites toujours en sorte que votre CV corresponde à l'emploi que vous recherchez
Voulez-vous envoyer 50 CV pour obtenir seulement deux entretiens d'embauche ? OU voulez-vous envoyer huit CV et obtenir trois ou quatre entretiens d'embauche ?
Si vous choisissez la deuxième option, c'est facile. Veillez toujours à rédiger votre CV en fonction de l'intitulé du poste auquel vous souhaitez postuler.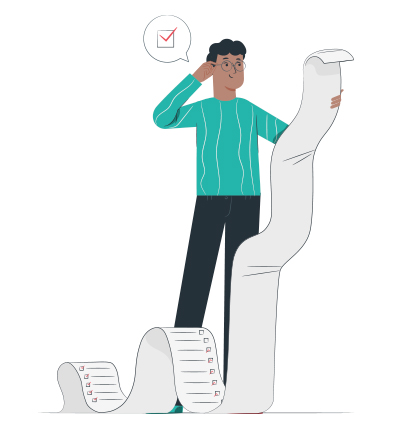 Quelle doit être la longueur d'un CV ?
Combien de pages doit contenir un CV ?
La question sur le CV la plus courante au monde : "Quelle longueur doit avoir votre CV ?"
Réponse : une page. Si vous avez beaucoup d'expérience professionnelle (10 ans et plus), il est parfois judicieux de prévoir un maximum de deux pages si tout ce que vous avez mentionné est pertinent pour le poste auquel vous postulez.
Note: All of our templates are one-page CV. when you add more experiences, a second page will be added automatically, so you will not have problems adhering to the one-page limit!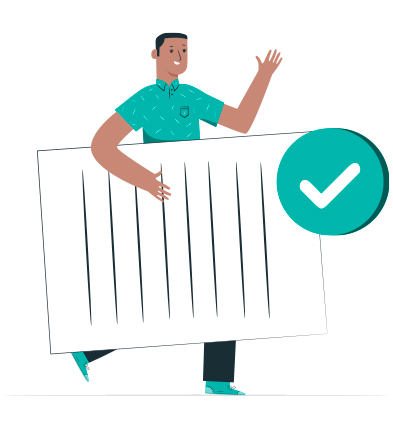 attract readers by adding a summary at the top of the CV. Think of it as an introduction to your CV. You should highlight in two to four sentences your skills, experience and suitability for the job you are applying for.
Faites briller votre résumé personnel en utilisant cette formule parfaite :
[Titre du poste] avec X + années d'expérience professionnelle en [responsabilité du poste]. En X années, j'ai eu [les deux ou trois] réalisations les plus importantes. Je pense que je suis un bon candidat pour [titre] dans [nom de l'entreprise].
To learn more about how to create a professional CV summary, check out our guide.
En revanche, si vous êtes étudiant ou si vous n'avez pas beaucoup d'expérience professionnelle, lisez comment créer un CV d'étudiant.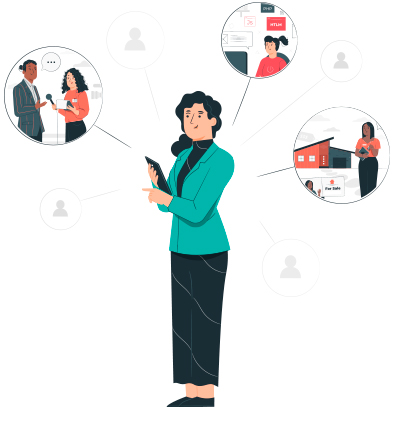 Comment rédiger les expériences professionnelles dans un CV
Comment rédiger les expériences professionnelles dans un CV
practical experiences on a CV One of the things that is easy to learn and hard to master
Titre du poste
Le nom de l'entreprise / institution / employeur
Réalisations ou responsabilités
Date des travaux
Si vous voulez rédiger une expérience professionnelle exceptionnelle, vous devez vous concentrer sur des réalisations mesurables.
Utilisez cette formule : J'ai résolu le problème (x) en faisant (y) pour obtenir le résultat (z).
Exemple : Négocier un plan avec les fournisseurs pour réduire les dépenses de bureau de 5 000 $ par an.
Montrez vos réalisations à l'aide de chiffres. Ne fournissez pas d'informations sensibles.
a augmenté ses ventes de 20 % en 12 mois.
Cela montre à l'employeur que vous n'êtes pas un candidat quelconque, mais que vous êtes une excellente personne !
Pour en savoir plus sur la façon de rédiger les réalisations dans votre expérience professionnelle (et obtenir le poste), consultez notre article.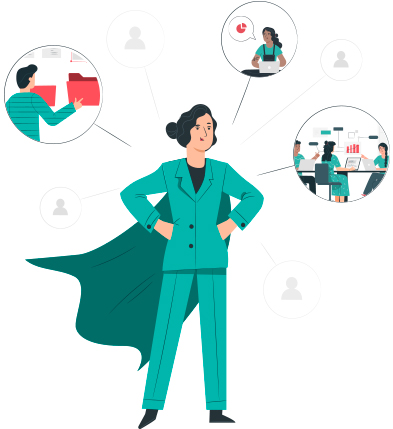 Il suffit de créer une section "Compétences" sur votre modèle de CV, et d'y énumérer vos compétences les plus importantes.
Nous recommandons généralement de rédiger les compétences techniques et personnelles.
Not sure which skills to include on your CV? Check out the 50 best skills to enrich your CV.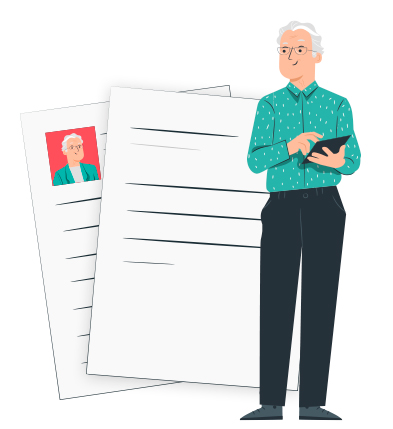 Comment créer une lettre de motivation pour votre CV ?
Toute candidature à un emploi nécessite une lettre de motivation (en plus de votre CV). Voici quelques conseils pour bien la rédiger :
Personnalisez votre lettre de motivation pour l'employeur. Plus elle est personnelle, plus vos expériences ont de chances d'être appréciées.
Identifiez vos expériences générales (expérience professionnelle, titre du poste, etc.) et énumérez les 2 ou 3 réalisations les plus importantes pour démontrer vos compétences.
If you really want to stand out, create a cover letter that matches your CV template. To do this, you can use one of our cover letters.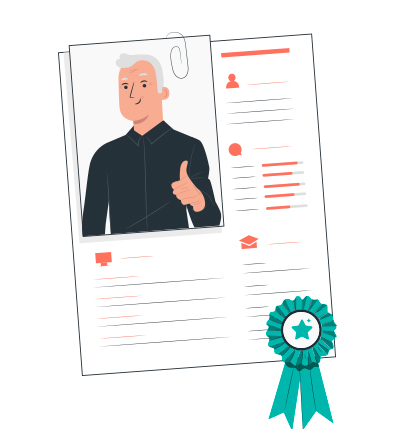 What is the best CV template?
There is no such thing as a "best CV template" – every employee / employer has their own characteristics. We recommend that you research about the company you are applying to
For example, if you are applying for a job at a bank, you may want a more professional CV template. On the other hand, if you want a job at a startup company where they value innovation the most, you should stick with this creative CV template.
Finally, if you are still not sure which type of template is right for the job you are applying for, you can use one of the professional CV templates that will fit that job.
CV Resources
A CV is a brief summary of personal and professional experiences, skills, and education history. Its main purpose isn't just to show off your best self but also to keep you employed by showing what sets you apart from other applicants who may be vying for the same position!
You know how to make a CV, but are you applying the right strategies? We have all heard of "good" CVs and bad ones. But what about the great ones-the best way for job seekers who want their chances at success in finding work increased by twofold or more! Check out this guide on creating an awesome CV that really gives recruiters something worth checking off their list when reviewing applications.
How to Write a CV for Your First Job?
The process of writing a CV might seem super scary to you. After all, most CVs are 80% about work experience and 20% summary of other accomplishments which can make it hard for those without any professional achievements or training in this area at all!
Je sais que ce n'est pas facile, surtout lorsque l'accent est mis sur la nécessité de mettre le pied dans la porte le plus tôt possible, mais ne vous inquiétez pas, nous avons quelques idées pour commencer à faire en sorte que le vôtre se distingue des autres...
Selon de nombreuses personnes, y compris moi lorsque je débutais dans le secteur et que je postulais moi-même pour des emplois ou des stages, personne ne s'attend à ce que vous ayez UNE expérience professionnelle. L'idée est qu'un employeur accorde des places sur la base de l'ambition uniquement, alors faire quelques recherches à l'avance est vraiment utile !
If you're looking for a career change and don't have any work experience, make sure your CV stands out. Check out our guide on how to writing a CV without work experience.
What to Put on a CV?
Section de contact
Expérience professionnelle
Qualifications académiques
Compétences
Prix et réalisations
Langues
Travail bénévole
Hobbies
Activités et projets extrascolaires
For more information on how to place these sections on your CV, check out our article. 10 Essential CV Sections in 2021
How to Format a CV?
Among the most effective CV formats for 2020, we have selected and listed below the top picks for you from which you can select the best CV format according to your respective requirements and job demand:
Reverse Chronological or Career Ladder CVs
Skill and Competencies Based CVs
Functional CVs
All Rounder CVs
Hybrid or Combination CVs
The Reverse Chronological CV is the most common type seen in professional settings. It emphasizes your work experience and is written down in reverse-chronological order, for example with date ranges that show progression up through an organization or job title over time.
If you want to learn more about CV formats, check out our article Best CV Formats for 2020.
How Long Should a CV Be?
Réponse courte : une page.
How to Write a CV Summary?
A CV summary is a brief description of your experience, skills, and qualifications. It speaks to the HR executive, telling them why they should hire you. If your professional summary is clear, concise, and meets their standards, you'll pique their interest, encouraging them to read your CV further.
To learn more about how to create a CV summary, check out our guide 40 CV Summary Examples (How-to Guide)
How to List Work Experience on a CV
Your work experience is an opportunity to list your accomplishments, responsibilities, and roles. You can list your work experience as follows:
Titre du poste : Pour chaque entrée de poste, indiquez votre titre de travail en première partie.
Nom de l'entreprise : indiquez le nom de l'entreprise et le lieu où vous avez travaillé dans un rôle spécifique.
Réalisations/ responsabilités : Dressez la liste de vos réalisations ou de vos responsabilités dans le cadre du poste. Soyez aussi détaillé que possible. Par exemple : "Création d'un nouveau modèle de mot-clé et de titre pour le marketing organique entrant et augmentation de l'engagement du blog de 20% en 3 mois".
Dates d'embauche.
How to List Skills on a CV?
According to the latest survey conducted by a career website, people often tend to choose bizarre skills to put on CV which have no particular relevance to their intended job position or career domain. This results in either the employer dumping the CV in the dismissed pile or discarding it after a cursory glance. Therefore, picking out the best job skills that align with any sort of career choice seems like a tricky task. In order to make things easier and more effective, we have compiled a list of 101 Essential Skills to Put on a CV [For Any Job]. These job skills can be fitted into your CV for any job that you are applying for.
How to Make a Cover Letter For a CV?
Job hunting sucks. Perusing through online job listings, refining your CV, as well as preparing for grueling interviews—none of it is fun. For many, the most daunting part of the process is crafting a cover letter. There's so much conflicting advice out there; it's difficult to know where to start.
If you want to learn more about how to write an effective cover letter, check out our comprehensive guide.