How to make a student resume to Win the Job Interview | Student Resume Example
You're about to learn how to write a stellar student resume that will land you interviews. What will you learn from this article? How to make a student resume.Good tips for building…
Resume Help
-

How to make a student resume to Win the Job Interview | Student Resume Example Get your free resume now
How to make a student resume to Win the Job Interview | Student Resume Example
You're about to learn how to write a stellar student resume that will land you interviews. What will you learn from this article? How to make a student resume. Good tips for building a resume for a college student. Explanatory examples for each section of the student's resume. How to write a student cover letter…

basil
Content Specialist
Published on: November 11, 2021 , Updated on: December 7, 2022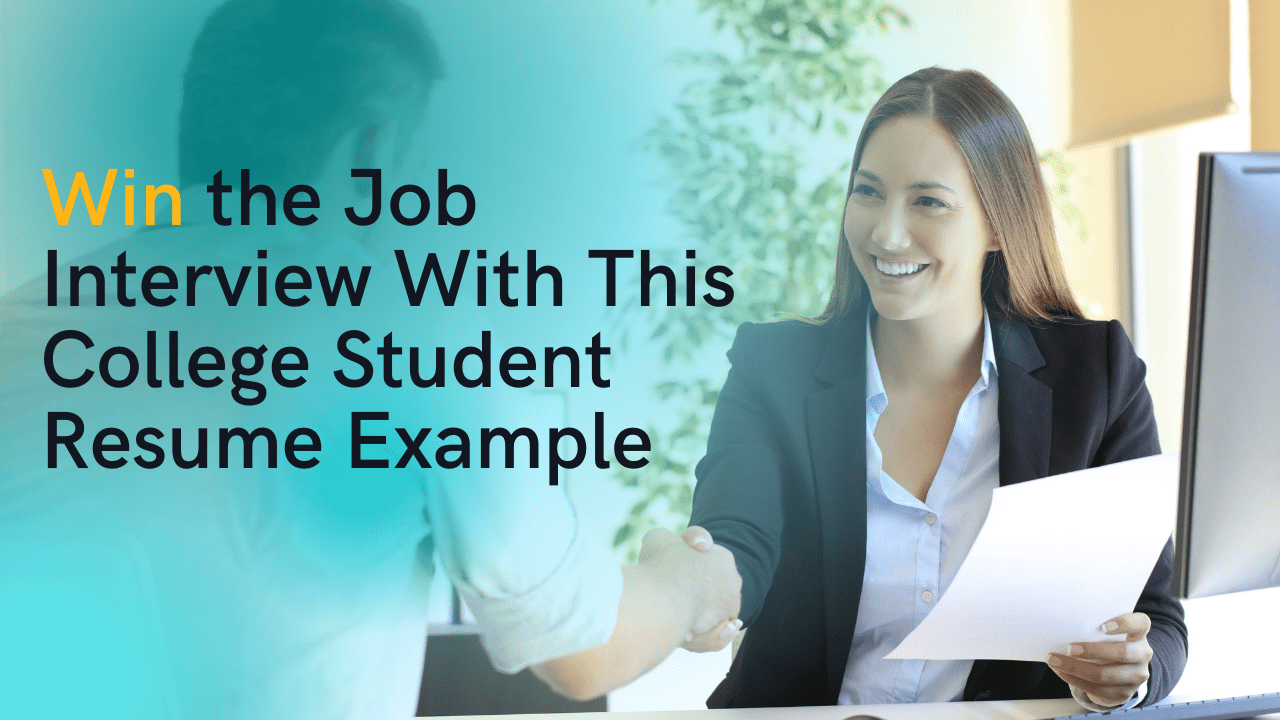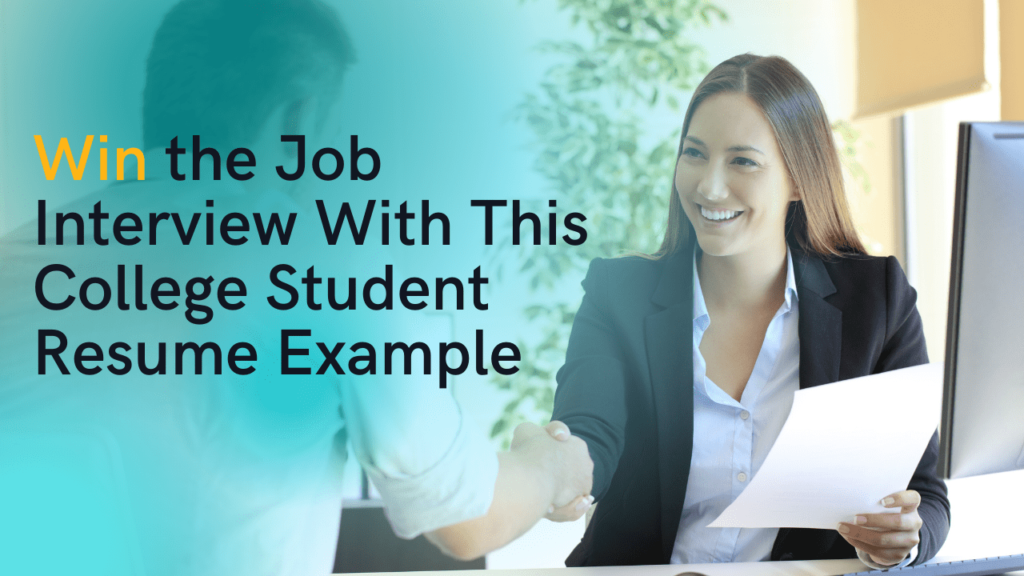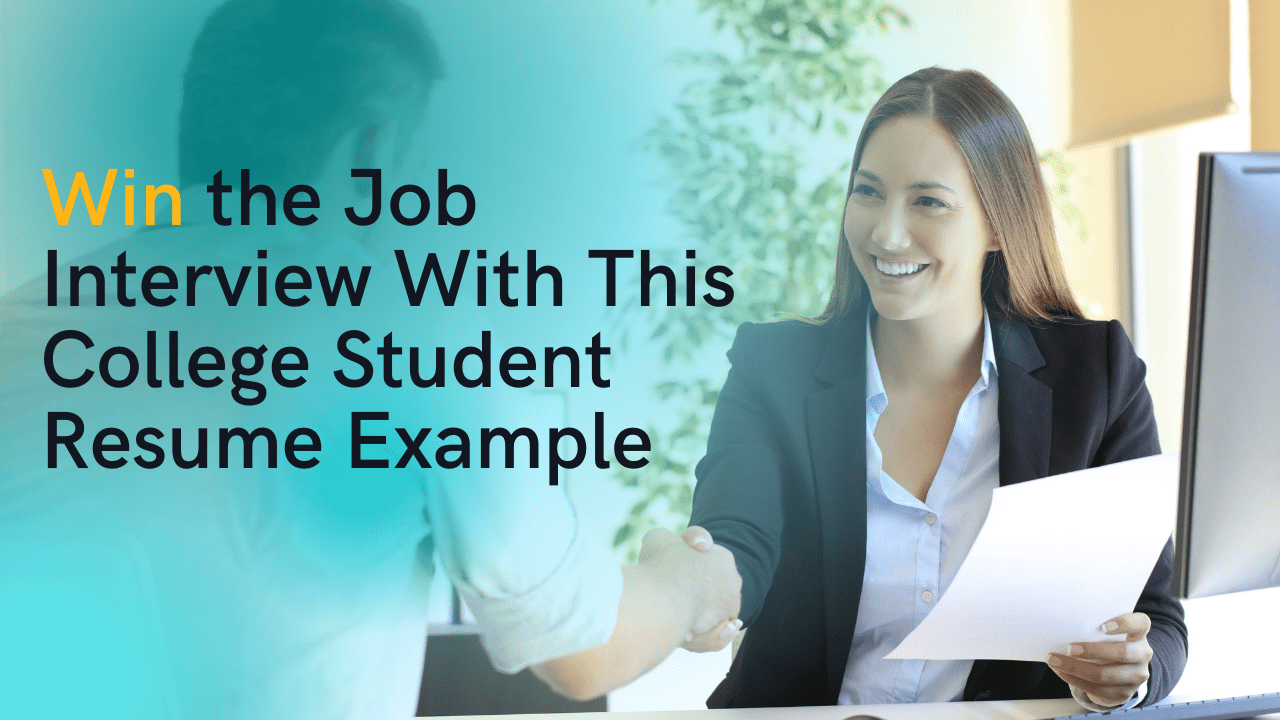 You're about to learn how to write a stellar student resume that will land you interviews.
What will you learn from this article?
How to make a student resume.
Good tips for building a resume for a college student.
Explanatory examples for each section of the student's resume.
How to write a student cover letter & example.
We'll show you how to create your own college student resume with skills and achievements, as well as education and experience.
The secret is out: This guide has all the answers for students who want more job opportunities.
Now, let's get to work on your student resume! There are three main ways you can make yourself stand out from the competition:
highlighting skills and achievements, describing education and experience in a compelling way, and using great design techniques like white space.
To help you spend less time writing essays about why you deserve the job, we've provided examples of student resumes for you to use as a guide.
For each category in your resume (education, skills and achievements, work experience), take inspiration from these samples.
We'll walk through what makes each one effective in its own way so that you can follow suit in creating an impressive college student resume.
Read more: Writing a Resume without Work Experience
How to Get Started on Writing Your Student Resume?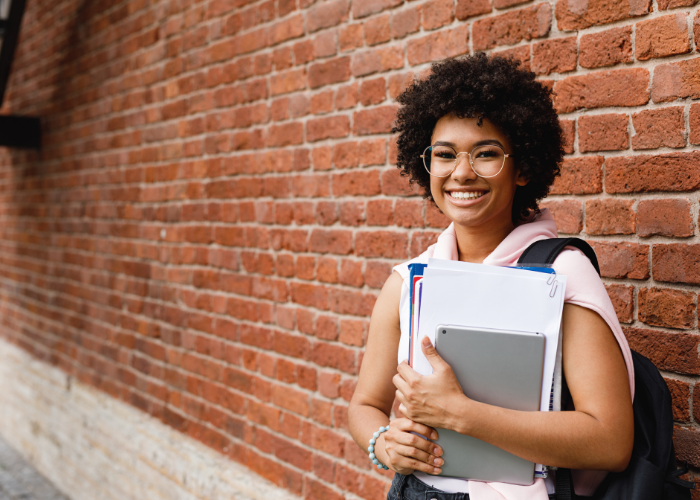 Writing a student resume can be tough, especially if you've never done it before.
Here's the good news: It doesn't matter where you start as long as you continue writing and leave yourself enough time to edit your work later on!
The first step is creating an outline that includes every section of information about your education, skills, and achievements, and work experience.
You can make an outline in any word processing program, but if you need some help getting started, check out the student resume template provided below!
After you've created your outline, it's time to start writing.
Keep all of this information organized in sections so that hiring managers don't get confused by what they're reading.
It doesn't matter if you're creating an internship student resume, a part-time job high school student resume, or a graduate student resume for your first employment opportunity.
The same standards apply to every good student's resume format.
You can login/create an account on our website and get access to special tools like the resume builder.
What to put on a college student resume?
The following sections may be included in your student resume:
Education. If you're still in college, this section should include your high school and current program of study (major).
Skills and Achievements. This is where most student resumes fall short because they don't highlight their skills or put enough effort into describing them on paper. There are a few ways to do it effectively: by using action verbs and statistics, and by using a combination of the two.
Work Experience. If you don't have any work experience to list on your resume as a student, leave this section out! Other students will include their summers spent working at various companies or internships they've completed during school. You can also mention volunteer positions here if applicable. Education is the most important part of a student resume.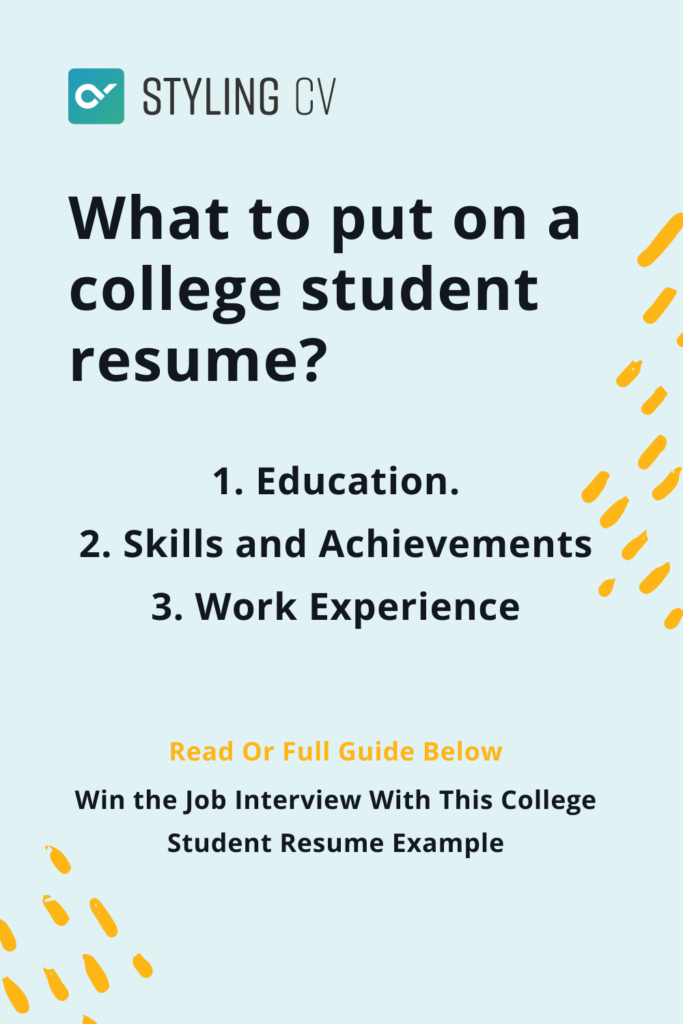 Don't try to fill up space here by listing every class and grade you've taken since preschool!
Instead, focus on your academic achievements that can serve as indicators for future success in the work force.
Here are the best resume tips you should follow:
The student resume you've been working on is almost complete! Once your outline and body content are finished, it's time to design the layout.
This step will help your resume stand out from other students' resumes that look like they were created in Microsoft Word with default settings.
Designing a great-looking student resume can be done quickly if you follow these simple design techniques:
Use a student resume template. Make sure to choose one that includes all the sections you need for your information.
List relevant keywords in bold where they can be found at least three times throughout your document, especially near the top of each section (education, skills and achievements). Remember to use action verbs like "organized" and "managed" instead of the more general term, "was."
Use bullet points to separate information. Instead of forcing each item into a paragraph (which will make your resume look like an essay), use this formatting technique to list relevant accomplishments or statements made about you in previous positions. This is also a great way for students with little work experience to show what they have learned from their volunteer and part-time jobs.
Read more: How To Write a Resume
How to Put Contact Information on a Student Resume.
On your student resume, listing contact information may appear to be a simple task.
It's not always as simple as you assume, especially if you're trying to keep the whole thing as brief as possible!
The following are the components of your resume header:
Name: Be sure to include your first and last name (the legal kind, not an alias).
Address: This section can be left out if you're only applying for local jobs; however, it's best to keep the header consistent throughout all of your student resume documents if possible!
Phone Number(s): Listing multiple phone numbers is not a bad idea – if your primary contact number changes, you can always update the others with information from the new number.
Email Address: This may be where students go wrong on their student resumes, as they end up listing only one email address (and it's probably an incorrect or out-of-date version).
Your resume should display at least two email addresses: one for business and another personal.
Social Media Handles: Social media may not be necessary for a student resume, but it could help you get the job if your social presence is strong. For example, someone with thousands of Twitter followers might use their handle to promote themselves to future employers.
Tip: Remember that your college student resume design won't matter if no one reads it! You should start by tailoring each document to the company or position you're applying for, so they will know what skills and qualifications suit them best.
To do this, research each employer's website before creating your student resume – it should contain information about their business that can be used as keywords on your document.
Read more: Your 10-Step Guide To Writing The Perfect Resume
How to Write a Resume Objective for a Student Resume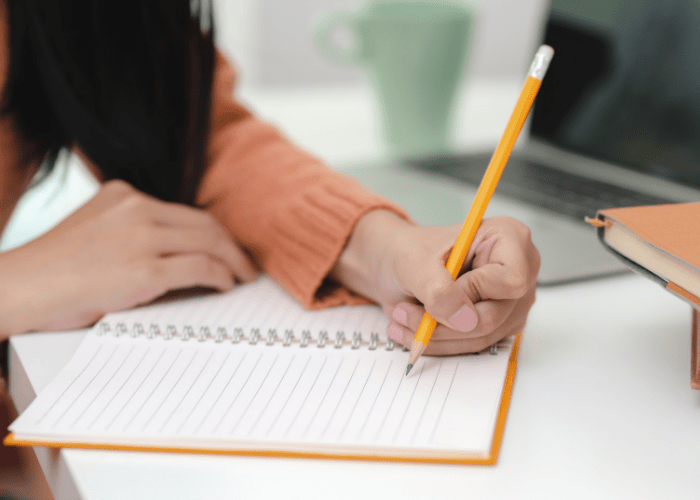 Writing a student resume objective is important because it tells employers what kind of job you're looking for and why. This quick section should be placed near the top of your document, after your header information but before any other sections – ideally under five lines long!
Here are some examples:
To obtain an entry-level position in marketing.
To obtain a position as an administrative assistant.
To obtain a position in sales.
One tip to remember is that you shouldn't use too many buzzwords or industry-specific terms, as employers might assume you can only do the job they're hiring for (and not anything else). If this happens, your student resume objective will serve more of an introductory purpose than actually getting you interviews!
I am seeking to work for your company because I believe my skills, qualifications and diverse education make me a strong candidate for the job.
How to List Education on a Student Resume: Methods & Examples
This section is largely dependent on both how much formal education you have – and how relevant it is to the job you're applying for.
In this section, we'll discuss how to list your education on a student resume and what information should be included in each of those sections – as well as some examples that can serve as inspiration!
By far, the most important aspect of any student resume format will be whether or not your education is relevant to the position you're applying for. If it's not, then your education section might look very different than if it were!
Read more: Chronological Resume Writing Guide
Here are some tips on what information can be included in each part of this section:
Degree/Certificate: Be sure to begin with whatever degree or certificate you received (e.g. Bachelor of Arts). If you have multiple degrees or certificates, this is where they should go.
Major/Concentration/Field of Study: Include the name of your major(s) and any concentrations if relevant to the position you're applying for – though not every employer might find it useful! This section could also include information about projects or research you completed as part of your coursework, if it's relevant to the job.
Graduation Date: If possible, include this section just after your degree information – including the month and year should be sufficient! This could also go at the top or bottom of that particular section instead.
GPA/SAT Score/ACT Score: This is where you should list your GPA, SAT score or ACT score. If the employer states that their ideal candidate needs to have a certain number of points in these categories, be sure to include this information!
styling CV is one of the leading sites in the field of CV creation and helps you prepare it in all respects.
Education Section Example:
Bachelor of Arts (September 2016) majoring in Business and Marketing with concentrations in Strategy & Analytics and Entrepreneurship.
Sample Student Resume Work Experience Section Entries
This section is entirely dependent on how much work experience you have.
For students without any relevant prior experience, this might be non-existent or very short! On the other hand, someone who has completed an internship while in college will likely need to include more entries than a student with other kinds of experience.
Here are some examples:
Maintenance: Worked as a member of the maintenance staff for XYZ company, performing daily tasks such as cleaning and restocking supplies – occasionally working with machinery or equipment that had to be repaired.
Student Assistant/Internship: Worked as an assistant at ABC Corporation's office on campus, assisting students who have questions about their accounts – this role required me to be research-oriented and detail-driven. Completed a student internship at XYZ Company, working with payroll for employees of ABC Corporation – this role required heavy data analysis skills as well as the ability to communicate effectively with clients over email or phone.
Maintenance Example:
Responsible for inventory management on site, ensuring that supplies and equipment are well-stocked for employees – occasionally working with machinery or tools.
How to Put Skills on a Student Resume?
This is perhaps the most important section of all, because it's likely what hiring managers will look at first. If you don't have much experience to write about in your work history, this might be the biggest part of your resume!
You should include relevant skills that apply directly to the job description or position for which you're applying – if you don't have any skills that match up with what they're looking for, you might find it difficult to get interviews right away.
Here are some examples of student resume skills:
Microsoft Office (e.g. Word, Excel)
Communication (e.g. emailing clients or writing reports)
Interpersonal Skills (e.g. building rapport or working in a team)
For each of the skills you wish to include, write down an example of when and how they were used. This might be something like:
Microsoft Office (Word): Created client reports for ABC Corporation on topics such as research data analysis and marketing strategies – this role required me to present complex information in a clear and concise way.
Communication (email): Communicated with clients over email to answer their questions about billing – this role required me to respond quickly and efficiently, as well as use proper grammar and spelling at all times.
Interpersonal Skills: Ability to work effectively within teams or on my own – I'm confident in my ability to communicate with others and get along well in most work environments, which leads to smooth workflow.
Student Cover Letter Example
You can use this cover letter example as a guide for how to write your own student cover letters.
Dear Hiring Manager, I'm writing in response to the advertisement you recently posted on CareerBuilder for an entry-level position at ABC Corporation – please accept my application for consideration! Through previous work experience and internships, I have developed strong communication, problem-solving and time management skills that will be beneficial in this role. I am confident that my qualifications match your needs – please feel free to contact me at (123) 555-1234 or jane@gmail.com if you would like any further information about my candidacy! Thank you for considering me as a candidate for this position, and I look forward to hearing from you in the near future. Sincerely, Jane Smith
how to write a student cover letter.
address hiring manager by name.
mention the position you are applying for and where you saw it advertised (CareerBuilder, in my case).
state clearly why your qualifications match their needs.
Resume Formatting Tips: Make sure to use a formal format when writing your resume – this means no bullet points, large blocks of text or emoticons!
Use a simple font like Times New Roman and keep the size at 11pt.
Make sure you have someone look over it before submitting – ask them if they were able to easily read and understand each section of the resume.
Don't include personal information such as race, gender or religion unless it's required for a specific position.
Here's a recap of how to write a student resume:
Use a formal format and include relevant skills.
Describe your education and experience in simple terms that will be easy to understand for hiring managers.
As you can see, writing an awesome student resume is all about taking the time to explain yourself clearly!
FAQ about " How to make a student resume"
1-How can a student make a resume with no experience?
5 suggestions for writing a student CV without experience
Showcase your education. Emphasizing your schooling is an excellent method to highlight your skills, hobbies, and background if you lack work experience.
include expertise that is pertinent.
Describe your skills.
Add a synopsis.
Employ a template.
2-What should a student write in resume?
What to Put on Student Resume:
Title and Executive Summary.
Coursework.
Internships.
GPA, honors, and recognition.
Experience in volunteering.
Activities, initiatives, groups, and clubs.
Work Experience.
3-What skills should I put on my resume as a student?
Here are a handful of the top abilities that virtually every employer will value for a student resume:
Written and Verbal Communication.
Teamwork.
Adaptability.
Punctuality.
Organization.
Flexibility.
aptitude for fixing issues.
Motivation.
4-Why are skills important for students?
The training and improvement of students' skills aids in their emotional development. Learning new skills requires students to be ready to explore. They may face losses and disappointments along the way, but those lessons will help them develop a "never give up" attitude and the ability to fail gracefully.
5-How do you write a resume summary with no experience?
Your professional summary should comprise one or two adjectives defining your work ethic, degree of education, applicable skills, and professional hobbies or interests since you lack job experience. Every professional summary you write should be customized for the particular position you're looking for.
Related articles
Build your resume in 10 minutes
Use professional field-tested resume templates that follow the exact 'resume rules' employers look for. Create My Resume
BUILD MY RESUME NOW