Wie man einen professionellen Lebenslauf schreibt 2023
Ein professioneller Lebenslauf kann Ihnen dabei helfen, sich von anderen Bewerbern abzuheben und einen positiven Eindruck beim potenziellen Arbeitgeber zu hinterlassen.
Resume Help
-

How to write a professional resume 2023 Fordern Sie jetzt Ihren kostenlosen Lebenslauf an
Wie man einen professionellen Lebenslauf schreibt 2023
Ein professioneller Lebenslauf kann Ihnen dabei helfen, sich von anderen Bewerbern abzuheben und einen positiven Eindruck beim potenziellen Arbeitgeber zu hinterlassen.

Sarah Reynolds
Spezialist für Inhalte
Published on: May 2, 2018 , Updated on: January 3, 2023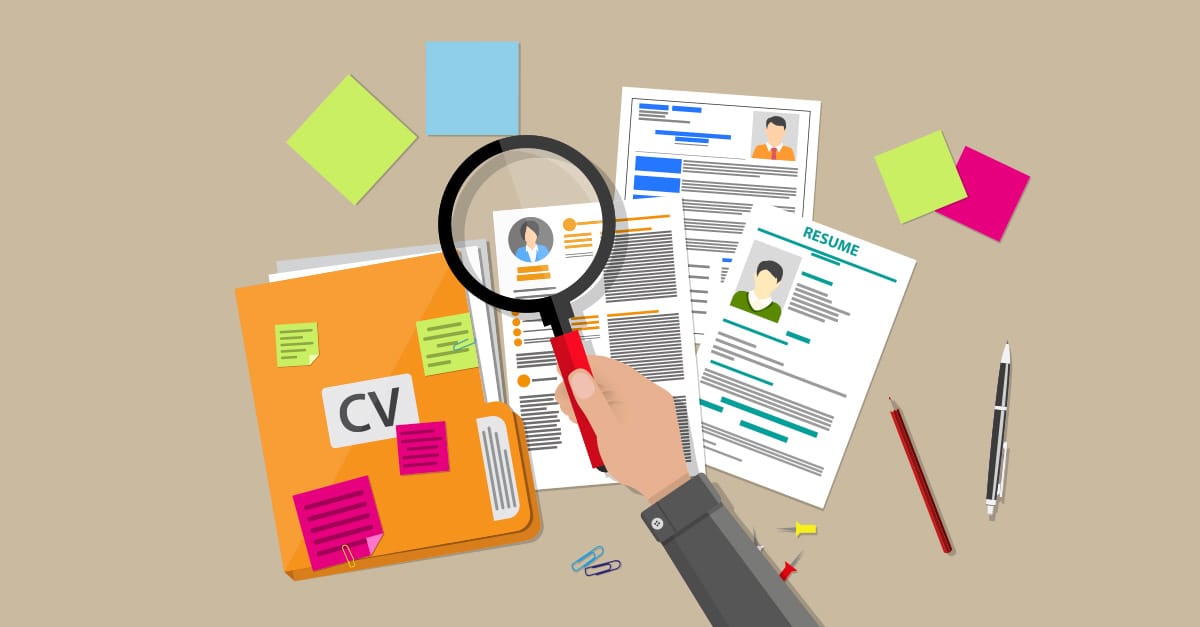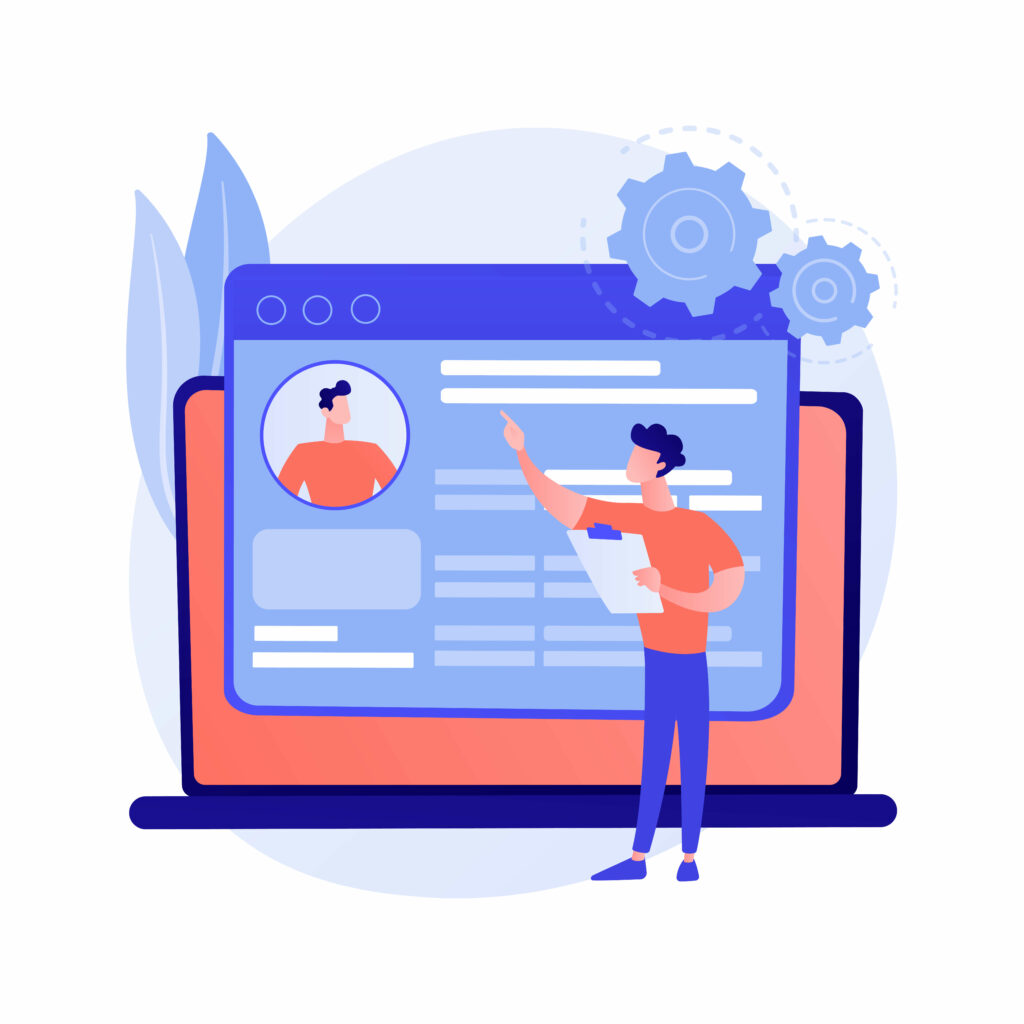 In this article, we highlighted "how to write a professional resume" with an explanation of the most important points and tips.
You will learn about:
how to write a professional resume.
Important tips for writing a perfect resume.
Important examples.
What to do and what not to do.
One cannot underestimate the importance of a professionally written.
This is because the first thing which goes into the hand of your prospective employer is your resume and you don't want to miss a chance of creating a first impression.
Ganz gleich, ob Sie eine neue Stelle suchen, sich beruflich verändern wollen oder schon seit vielen Jahren keinen Lebenslauf mehr brauchen - der Weg zu einem Vorstellungsgespräch beginnt mit einem Lebenslauf.
DasSchreiben eines Lebenslaufs ist eine Kunst und kann Ihnen helfen, ein Vorstellungsgespräch zu bekommen.
A professionally written resume can help you stand out from the other job applicants and help you to make a positive impact on the prospective employer.
Today with the help of resume builders it's possible to avail a professional resume template; you don't have to build your resume from scratch, instead just focus on resume writing.
There are ample of websites providing free resume templates and they also have many examples of a winning resume which can guide you in numerous ways.
So what is actually needed on your resume to impress the recruiter?
Der professionelle Leitfaden zum Schreiben von Lebensläufen hilft Ihnen mit den unten aufgeführten Regeln und Tipps zum Schreiben von Lebensläufen.
Ihre Erfolgsgeschichte beginnt mit einem Lebenslauf
Erstellen Sie einen schönen Lebenslauf, beeindrucken Sie Ihren zukünftigen Arbeitgeber und finden Sie den Job, den Sie schon immer wollten.
Meinen Lebenslauf JETZT erstellen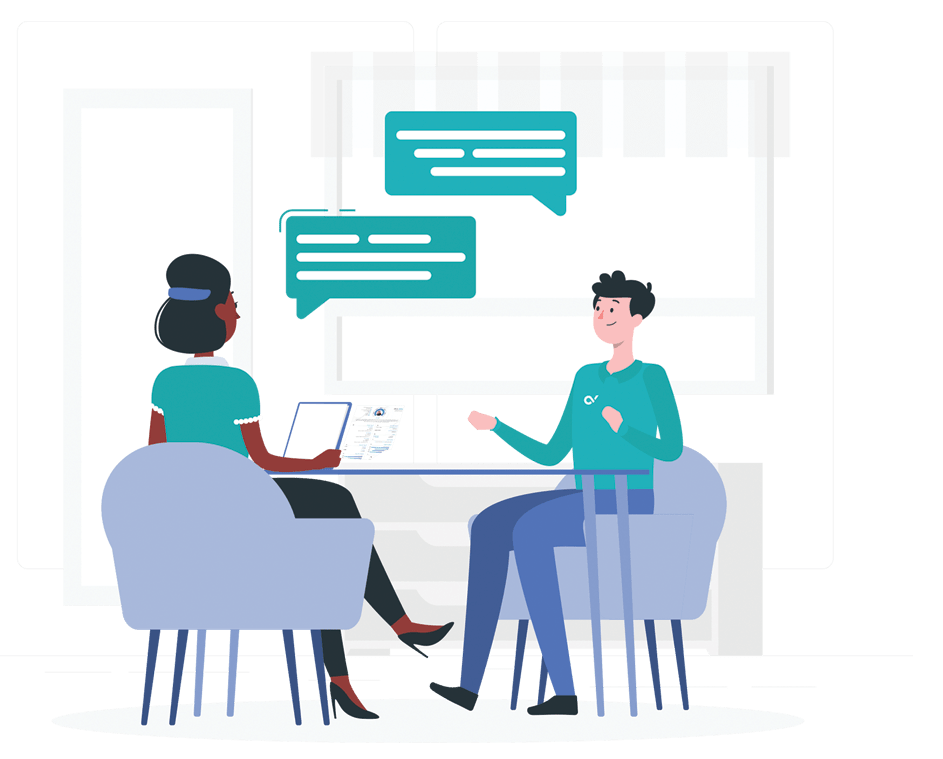 Der Unterschied zwischen einem Lebenslauf und einem CV
Was ist ein Lebenslauf?
Ein Lebenslauf (Curriculum Vitae) ist eine detaillierte Zusammenfassung Ihrer beruflichen und akademischen Daten.
Was ist ein Lebenslauf?
Ein Lebenslauf ist in der Regel kurz und bündig und umfasst 1 oder 2 Seiten, während ein Lebenslauf lang und ausführlich ist und 3 oder 4 Seiten umfasst.
Read more: CV vs Resume what is the difference – 2022
Auswahl des besten Formats für Ihren Lebenslauf
Grundsätzlich gibt es drei verschiedene Arten von Lebenslaufformaten, darunter
Chronological resume format
Functional or Skill based resume format
Combination resume format
The Chronological resume format is basically ideal for people with years of job experience behind their back.
With the help of this format, they can showcase their roles and job description of a number of years very easily.
The functional or a skill based resume format is ideal for those who lack job experience or those who have graduated recently.
Combination resume format is the best option for people who have plenty of job experience and diverse skill set.
Selecting a right format for the resume can be confusing, but if you use a resume builder this task can become really very easy.
This is because the resume builder selects the type of format based on the job you are applying for and your experience.
Wie wählt man das beste Layout für seinen Lebenslauf?
The first thing which the employer notices about your resume is the layout. The employers can reject your resume if it is unorganized and shabby, it's boring to read and if it's too long with filler content.
Therefore selecting a resume layout is very important.
Creating a layout for a winning resume was a time-consuming and tedious task. But with the help of the resume builders, this task has become a piece a cake.
Lebenslauf Layout muss haben
Eine Seite lang (maximal drei).
Klare Bereichsüberschriften.
Reichlich leere Flächen, insbesondere an den Rändern.
Einfach zu lesender Textstil.
The resume builder site have options where you can choose a professional template and customize it as per your requirement.
You just have to fill some fields and your job is done. The main advantage of using a resume builder is that the important things are organized automatically.
Was sollte in Ihrem Lebenslauf stehen?
The most important thing you should consider while creating a resume is to keep it short, simple and to the point.
No employer is going to read your resume thoroughly, they will take a glance at it for a few seconds and that's where your resume should do the talking.
The key features which should be included in your resume are as follows:
Was sollte in Ihrem Lebenslauf stehen?
Berufserfahrung
Kontaktinformationen
Berufliche Zusammenfassung und Titel
Bildung
Fertigkeiten
Auszeichnungen und Zugehörigkeiten
Gemeinschaftsdienst (fakultativ)
Referenzen
The resume builder will help you fill these sections easily and quickly as they have pre-written texts which will require some editing as per your needs and requirements.
There are numerous pre-written texts based on job and industry-specific factors.
With the advent of resume builders, the tedious and laborious task of writing a professional resume has come to an end.
You can login/create an account in Styling cv and enjoy all the features of CV styling and tips.
Ziel des Lebenslaufs vs. Zusammenfassung des professionellen Lebenslaufs
Which is most common in 2022, an objective for a resume vs. professional summary? Well, the objective statement is going out of fashion.
Warum sind Lebenslaufvorlagen in MS Word SCHLECHT?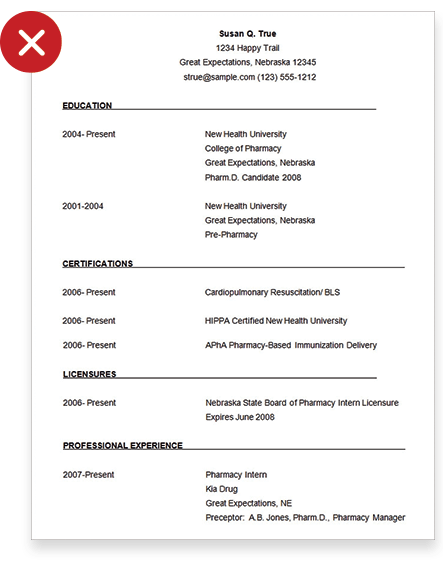 Es ist eine sehr altmodische Art, einen professionellen Lebenslauf zu verfassen, und die Erstellung nimmt viel Zeit in Anspruch.
Jedes Mal, wenn Sie Ihren Lebenslauf aktualisieren müssen, geht die Vorlage kaputt und Sie müssen alles noch einmal neu machen.
Wenn Sie die Vorlage ändern wollen, werden Sie Stunden damit verbringen, herauszufinden, welcher Abschnitt wohin gehört.
Meinen Lebenslauf JETZT erstellen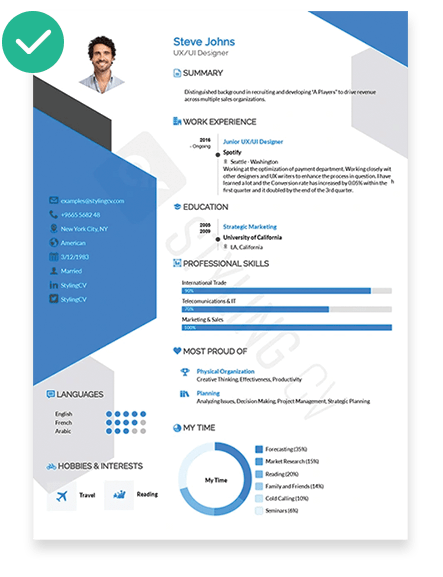 Wie man eine professionelle Zusammenfassung des Lebenslaufs schreibt
A professional resume summary gives a convincing snapshot of your skills and experience is favored by recruiters.
The best resume formats will have space for a few lines of content at the extremely best of the page for an outline of what takes after.
Das Hauptziel der Zusammenfassung ist es, den Leser zu fesseln und ihn zum Weiterlesen zu animieren.
Tipps
Wenn Sie dieZusammenfassung Ihres Lebenslaufs mit Ihrer Berufsbezeichnungbeginnen, zeigt dies dem Personalverantwortlichen, dass Ihr Lebenslauf relevant ist.
Fügen Sie zwei oder drei Erfolge hinzu. Fügen Sie Zahlen und Details hinzu. Wenn Sie sich auf Ergebnisse konzentrieren, heben Sie sich ab und beweisen, dass Sie der richtige Kandidat sind.
Tailor it to the job offer Find keywords from the job description, including skills and adjectives (dedicated, hardworking) and add them to your resume summary.
Lesen Sie mehr: 10 Wichtige Abschnitte im Lebenslauf
Dies ist ein gutes Beispiel für eine Zusammenfassung des Lebenslaufs:
Zusammenfassung des Lebenslaufs für eine Lehrkraft
A passionate Mathematics teacher with 3+ years of teaching, guidance, and counseling experience.
Possess a strong track record in improving test scores sometimes as high as 45% among college-prep high school students
Beispiel für eine Zusammenfassung des Lebenslaufs für einen Studenten
Recent college graduate with 3+ years of experience in food preparation and bartending, and certified in ServSafe.
Communications major seeking to leverage my interpersonal skills to provide a friendly, and fun atmosphere for the customers.
Beispiel für eine Zusammenfassung des Lebenslaufs für einen Bauingenieur
Analytical Civil Engineer with 6+ years of experience designing water and earthwork projects.
An autonomous worker committed to providing high-quality services. Proficient in AutoCAD and in possession of a Bachelor's in Civil Engineering.
Beispiel für eine Zusammenfassung des Lebenslaufs für Marketing Manager
Marketing Manager with over eight years of experience.
Proven success in running email marketing campaigns and implementing marketing strategies that have pulled in a 20% increase in qualified leads.
Proficient in content, social media, and inbound marketing strategies.
Skilled, creative and innovative.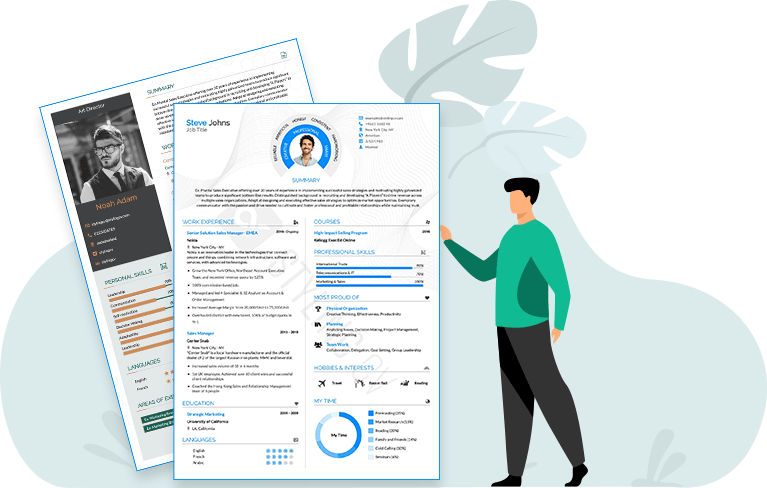 How to Write a Resume Objective
In a word, a resume objective summarizes the purpose of your application.
Your motivation for entering a new field is communicated. Similar to a resume summary, an aim should just contain one to two sentences.
Resume Objective Examples
Let's examine what that would seem like to a student:
"Seeking new possibilities, hardworking recent graduate with a B.A. in Graphic Design from New York State University. 3+ years of relevant experience designing UX/UI and producing graphics using Adobe Illustrator and Photoshop. I intend to sharpen my abilities and develop as a designer at the X Design Studio."
As an alternative, if you're thinking about switching careers:
"has at least five years of experience in the software sector as an IT project manager. I oversaw a team of developers to deliver products for the FinTech and HR IT businesses, among others. I'm hoping to make the most of my prior expertise managing outsourced products as a Product Owner at X."
Lesen Sie mehr: 50+ Beispiele für Lebenslauf-Ziele: Karriereziele für alle Jobs
Was soll in den Abschnitt Kontaktinformationen aufgenommen werden?
ie absolut grundlegendsten Fehler im Lebenslauf finden sich bei den Kontaktdaten, daher sollten Sie diesem Abschnitt besondere Aufmerksamkeit widmen.
Hier sind einige Regeln und Vorschriften für Lebensläufe, die Sie beachten sollten:
DOs
Geben Sie mindestens Ihren Namen, Ihre Telefonnummer, Ihre E-Mail-Adresse und Ihren derzeitigen Wohnsitz an.
Fügen Sie Profile in sozialen Medien hinzu, die für die Stelle relevant sind, z. B. ein ausführliches LinkedIn-Profil. Andere Profile wie Twitter, Facebook und Instagram können für manche Stellen nützlich sein.
Fügen Sie ein professionelles persönliches Foto bei, wenn Sie sich für eine Stelle in Europa, Asien, Südamerika, Afrika oder dem Nahen Osten bewerben.
DON'Ts
Verwenden Sie eine unprofessionelle E-Mail-Adresse, wie Coolmab8866@hotmail.com. Erstellen Sie eine separate berufliche E-Mail-Adresse, wenn Sie noch keine haben.
Fügen Sie ein professionelles persönliches Foto bei, wenn Sie sich für eine Stelle im Vereinigten Königreich oder in Nordamerika bewerben.
Put together a strong cover letter to go with your resume.
You've finished polishing your CV, so it's time to start sending it out to potential companies, right? not right now.
A cover letter is a prerequisite for any job application.
While your resume lists your employment history and qualifications, your cover letter describes your enthusiasm for the position and how your background qualifies you for it.
In other words, the cover letter is your chance to persuade the employer that you are the best candidate for the position.
Verwendung von Schlüsselwörtern im Lebenslauf
The use of keywords in the resume will help the recruiter to find your resume when they search for a person with a specific skill set or with a specific job description.
Der Einsatz von Applicant Tracking Systems (ATS) ist heute weit verbreitet und die meisten Personalvermittler nutzen sie, um die richtigen Bewerber zu finden, indem sie die Lebensläufe anhand von Schlüsselwörtern sortieren.
Therefore it becomes very important to make the use of keywords in the resume.
So are you confused how to find the right keyword for the resume and how to use them effectively? The use of resume builders can be the right answers for your questions.
The resume builders try to extract the keywords from the job posting and use them in such a way that your resume doesn't look spammed with keywords.
Today the use of resume builders has become very common as there is a number of resume builders available in the market.
Some of them are free whereas some charge a specific fee to create a resume.
There are many free and absolutely effective resume builders available today which can help you create a winning resume but choosing the right one is the key.
Styling CV is one such resume builder which helps you convert your academics, work experience, and skills into job opportunities.
FAQ about " how to write a professional resume"
1-How do I do a simple professional resume?
How to write a skilled resume:
Pick the appropriate resume format first.
Include your name and phone number.
Include a resume objective or summary.
Describe your hard and soft skills.
Describe your professional background using keywords.
Include a section on education.
Think about including optional sections.
your resume's format.
2-How many pages should a resume be?
The average resume should be one to two pages long. Some, though, may run three pages or longer.
3-How many jobs should you put on a resume?
How many positions should you include on your resume? If all of your employment are relevant and you aren't going over the maximum of 10-15 years, you should mention as many as you can on your resume. There are normally between 7 and 3 positions available. You shouldn't bother about the precise number as long as each job or position is pertinent.
4-What questions should your resume answer?
The Issues Your Resume Must Always Address
Does this person comprehend what we're asking for?
Does this person possess the abilities we require?
Has this person previously gotten results?
Is this person devoted to this line of work?
Is this individual in charge?
Can this person work under pressure and fulfill deadlines?
Since its incorporation in the year 2013, Styling CV has been helping people all around the world to build a strong resume and stand out from others.
Styling CV not only creates an effective resume but also helps you to find relevant jobs.
Ähnliche Artikel
Erstellen Sie Ihren Lebenslauf in 10 Minuten
Verwenden Sie professionelle, praxiserprobte Lebenslaufvorlagen, die genau den "Lebenslaufregeln" entsprechen, nach denen Arbeitgeber suchen. Meinen Lebenslauf erstellen
MEINEN LEBENSLAUF JETZT ERSTELLEN