Ihr 10-Schritte-Leitfaden zum Schreiben des perfekten Lebenslaufs
Es ist kein Geheimnis, dass es eine Herausforderung sein kann, ein Vorstellungsgespräch zu bekommen, ganz zu schweigen von der eigentlichen Stelle. Aber wenn Sie wissen, wie Sie den perfekten Lebenslauf erstellen, haben Sie etwas, was andere Bewerber einfach nicht haben - eine Chance! Dank dieses 10-Schritte-Leitfadens sind Sie auf dem besten Weg zu einem Vorstellungsgespräch mit einem gut gestalteten Lebenslauf, der die Blicke Ihrer Gesprächspartner auf sich ziehen soll.
Hilfe zum Lebenslauf
-

Ihr 10-Schritte-Leitfaden zum Schreiben des perfekten Lebenslaufs Fordern Sie jetzt Ihren kostenlosen Lebenslauf an
Ihr 10-Schritte-Leitfaden zum Schreiben des perfekten Lebenslaufs
Es ist kein Geheimnis, dass es eine Herausforderung sein kann, ein Vorstellungsgespräch zu bekommen, ganz zu schweigen von der eigentlichen Stelle. Aber wenn Sie wissen, wie Sie den perfekten Lebenslauf erstellen, haben Sie etwas, was andere Bewerber einfach nicht haben - eine Chance! Dank dieses 10-Schritte-Leitfadens sind Sie auf dem besten Weg zu einem Vorstellungsgespräch mit einem gut gestalteten Lebenslauf, der die Blicke Ihrer Gesprächspartner auf sich ziehen soll.

Sarah Reynolds
Spezialist für Inhalte
Published on: January 8, 2020 , Updated on: December 7, 2022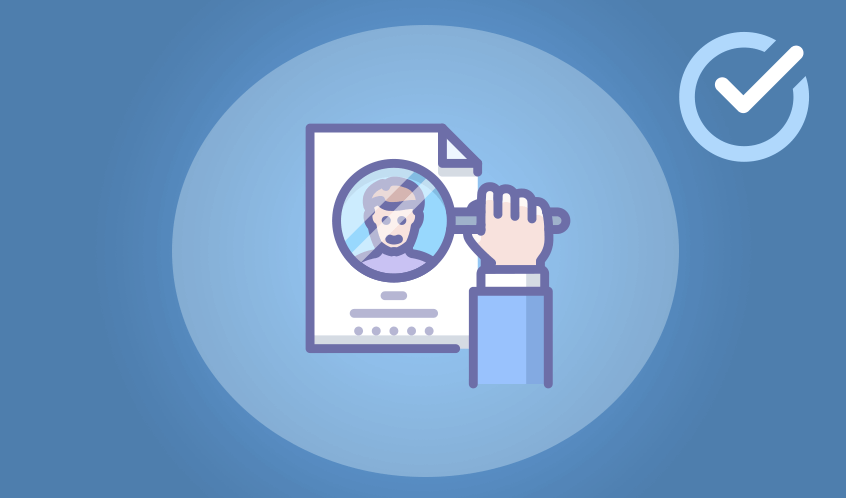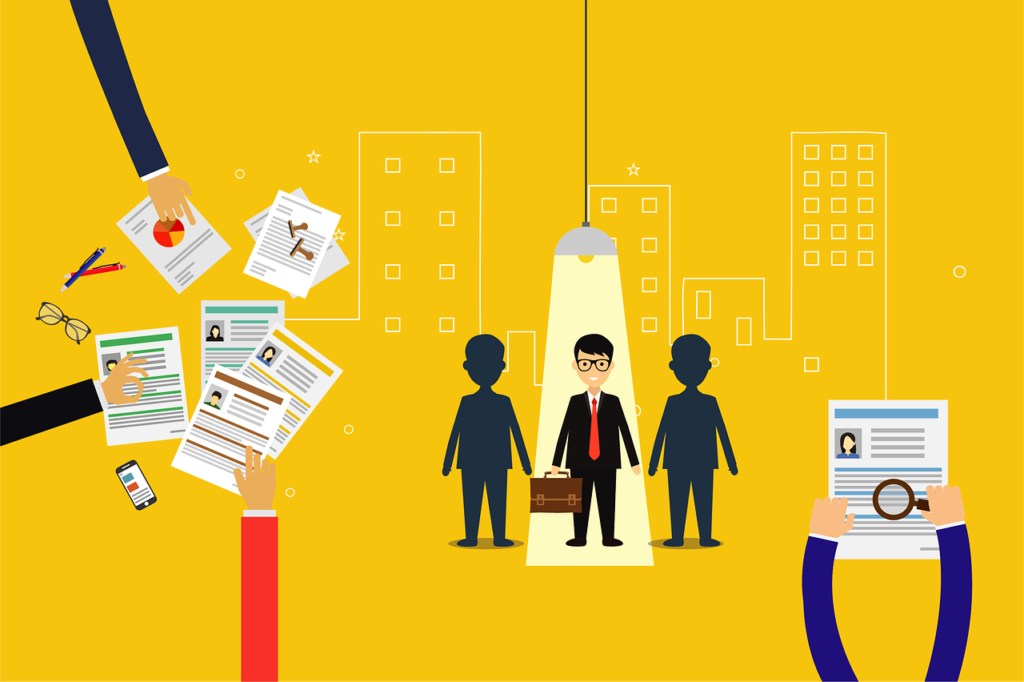 Wissen Sie, wie man den perfekten Lebenslauf schreibt? Es mag wie eine beängstigende Aufgabe erscheinen, aber eigentlich ist es gar nicht so schwierig. Lesen Sie unseren 10-Schritte-Leitfaden zum Schreiben des perfekten Lebenslaufs!
A summary of what you will find in this article:
Get to know the resume.
The steps for writing a resume are perfect.
The most important questions about writing a resume.
The most important tips that will help you with that.
Definition of the term "Resume"
Whether your career is just getting started or has been going for years, a resume is a summary of it, around one page in length.
It highlights the positions you've held and are now in, the duties you've taken on, the talents you've acquired, and the attributes you possess that make you a valuable employee.
All of those factors work together to make it very simple for any hiring manager to see your qualifications and suitability for a position.
Despite the effort you may have put into crafting your resume, hiring managers typically only give it a cursory glance, giving it only a few seconds of their time.
Nevertheless, it's reasonable to say that creating a fantastic resume—as opposed to hurriedly putting one together—is still important.
Read more: 10 Essential Resume Sections
What Does an Employer Want to See on a Resume?
Three elements are looked for by hiring managers on a resume: "What did you do? Why did you do it? What was the outcome?
Martin McGovern, proprietor of Career Therapy and a Muse career consultant, says. "You're going to be on the correct track if you can address all three of these issues in…your resume bullet points."
The goal is to use simple, understandable language, the reality is that most resumes are illogical. These documents are overstuffed with jargon, overly technical, and redundant.
If you try to read a resume that isn't yours, you will immediately notice that it reads like an alien authored it. Consider a recruiter who has no knowledge of how your job functions.
How can you make your resume understandable to them?
Additionally, the recruiting manager is interested in you in connection to them rather than just you and you alone.
According to Yurovsky, hiring managers aim to determine whether an applicant "meets the requirements" of the position they are filling.
"Your resume should portray this picture so the hiring manager not only knows what daily tasks you are capable of handling, but also why you, above others, offer value to their firm," says the author.
How to write a perfect resume
Here are the top 10 steps to Writing The Perfect Resume:
1. das richtige Format macht den Unterschied
For many, they just don't realize how important it is to choose the correct format for their resume, traditionally, there are three distinct formats that should be used and they include:
Reverse-chronological format, which is the most familiar to most applicants because it lists your most relevant experience first.
Followed by combination format, which is excellent for seasoned professionals who want to highlight relevant skills that can be transferred to a new career.
And lastly, functional format, which is entirely skills based.
Es ist wichtig, daran zu denken, dass jedes dieser Formate seine Vor- und Nachteile hat. Deshalb sollten Sie das richtige Format wählen, das zu Ihrer Erfahrung, Ihren Fähigkeiten und vor allem zu Ihren Zielen passt.
2. Vergessen Sie nicht Ihre Kontaktinformationen
This may come as a surprise, but far too many applicants neglect to include their personal information and contact information on their resume – this is a big mistake!
But why? Because your interviewers want to learn more about you – other than simply reading about your experience on a piece of paper or on their screen. For instance, basic contact information is a must.
From there, you should include a link to your LinkedIn profile, so that your potential employer can learn more about what you can and have brought to the table.
You can even consider adding links to social media profiles, your website, a blog, or even a personal portfolio, but all of this comes after adding the basics like your name, title, mailing address, phone number, and email address.
And let's just throw your LinkedIn profile here as well, it's all relevant information for a potential employer!
3. Writing the perfect resume needs a good summary and says it all
The executive summary – also known as the heading statement – is an important component of a well-crafted resume that is not to be overlooked.
And remember, because your likely employer will be flipping through resumes faster than you can swipe through your camera roll on your phone, you'll have to make sure that you hit the nail on the head.
Gehen Sie nicht einfach nur Ihre täglichen Aufgaben durch - schreiben Sie klare, prägnante und kurze Sätze, in denen Sie Ihre Leistungen, Erfahrungen und Fähigkeiten nacheinander aufzählen. Vermeiden Sie außerdem die Ich-Form!
4. Relevant bleiben
Many resumes fail to list what we'd call "relevant" work experience.
Instead, applicants list every job they ever held – including their job at the bowling alley when they were 17.
Remember, whoever is going to read your resume will probably want to get through it in a matter of minutes, if not less, this is your chance to show your employer that you have relevant skills and experience that they'd be interested in.
Bei der Auflistung Ihrer einschlägigen Erfahrungen sollten Sie folgendermaßen vorgehen:
Berufsbezeichnung
Standort
Zeitleiste
Zuständigkeiten und Aufgaben
Errungenschaften und Anerkennungen
Relevante Schlüsselwörter
Warum sind Lebenslaufvorlagen in MS Word SCHLECHT?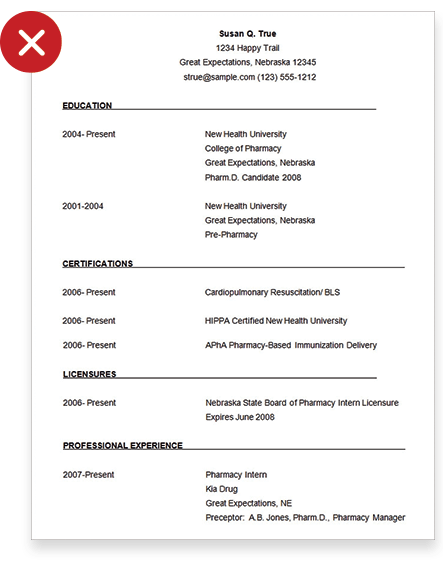 Es ist eine sehr altmodische Art, einen professionellen Lebenslauf zu verfassen, und die Erstellung nimmt viel Zeit in Anspruch.
Jedes Mal, wenn Sie Ihren Lebenslauf aktualisieren müssen, geht die Vorlage kaputt und Sie müssen alles noch einmal neu machen.
Wenn Sie die Vorlage ändern wollen, werden Sie Stunden damit verbringen, herauszufinden, welcher Abschnitt wohin gehört.
Meinen Lebenslauf JETZT erstellen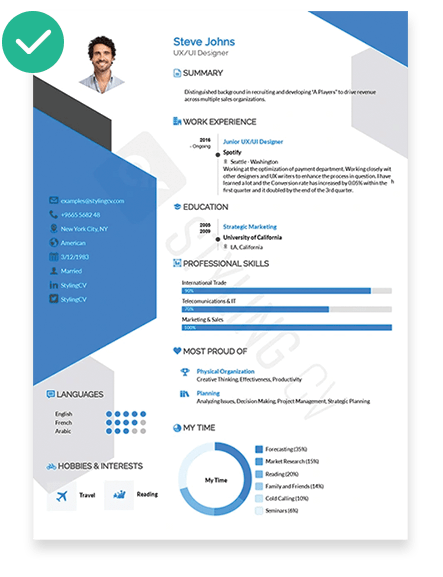 Klingt einfach, oder? Denken Sie auch daran, dass Sie beim Einfügen mehrerer Berufserfahrungen in Ihren Lebenslauf das richtige Format wählen müssen. Wenn Sie sich für ein umgekehrt chronologisches Format entscheiden, müssen Sie darauf achten, dass Sie die jüngste Position an die erste Stelle setzen!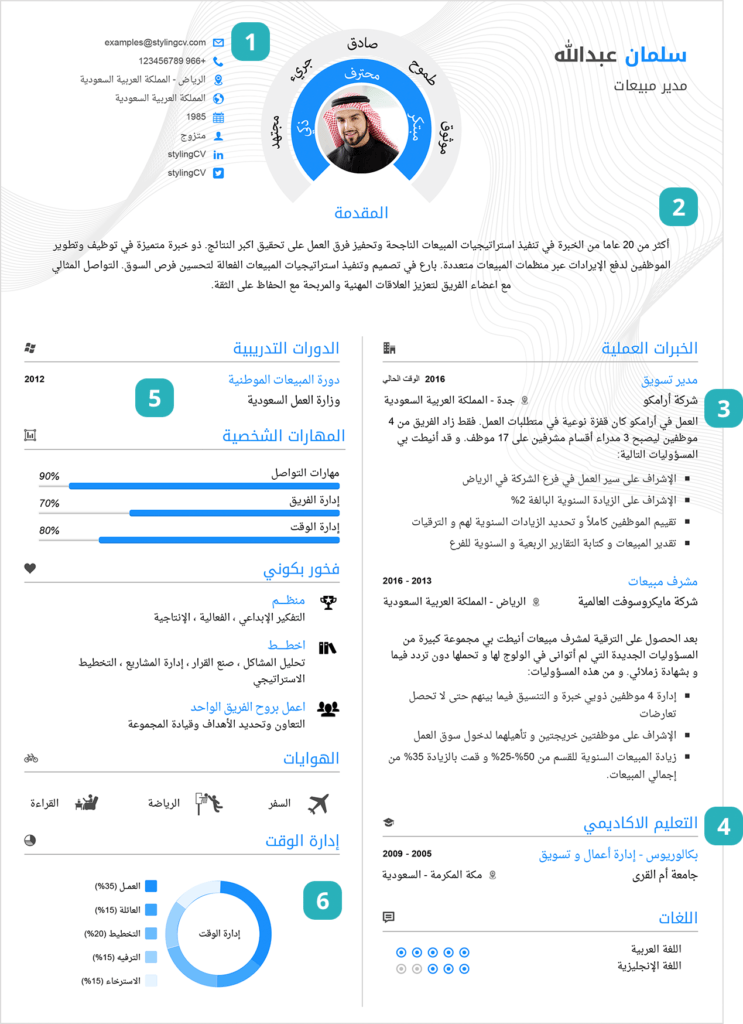 5. For writing the perfect resume, you have to make the education section simple
Believe it or not, education is always somewhat of a grey area for many job applicants.
Mostly because the ways in which it should be displayed on your resume are just too unclear.
Here, we'd like to simplify it for you and make it easier than ever to showcase your hard work in academia the right way.
So, first, you'd like you place your highest degree first, if you've earned a master's degree, that should be listed at the top.
Everything else should follow suit in reverse-chronological order.
If you've gone to college, no high school information should be included because it's simply not relevant.
From there, you can add any specialized courses that you've taken, any accolades and awards, or any honors.
Now, where exactly do you place your education section?
That depends on how much experience you have:
If you're seeking an entry level position, it's okay to place your education information above your work experience.
If you're a seasoned professional, place it just below your work experience.
6. While writing the perfect resume, you must add your correct skills
There's a difference between what we'd call hard skills and soft skills.
Hard skills
Hard skills are specific abilities that only few people know – for instance, perhaps you're an amateur photographer and have become a master at Adobe Photoshop.
This could be an important skill that could separate your application from others – even if it has nothing to do with photography!
Soft skills
Soft skills, on the other hand, are skills that are learned simply through experience.
For example, these can include things like organization skills, leadership, adaptability, communication, and much more.
But when you combine your hard skills and soft skills together, you present a unique skillset for yourself that potential employers will be interested in.
But remember, always be sure to add the right skills – this means add only relevant skills to the position that you're applying for.
So, if you're applying to be a bookkeeper, your Photoshop abilities simply aren't relevant!
7. Fügen Sie einige wichtige zusätzliche Abschnitte in Ihren Lebenslauf ein
Resumes that warrant them can always benefit from some additional sections that can include things like your hobbies, your interests, any relevant volunteer work that you've done, certifications, awards, and the like.
However, this should only be done when your resume warrants it.
You can even include information like any publications or projects that have your name included, second languages, portfolio information, and much more.
As long as it's relevant to the job that you're applying for, it's fair game!
Ihre Erfolgsgeschichte beginnt mit einem Lebenslauf
Erstellen Sie einen schönen Lebenslauf, beeindrucken Sie Ihren zukünftigen Arbeitgeber und finden Sie den Job, den Sie schon immer wollten.
Meinen Lebenslauf JETZT erstellen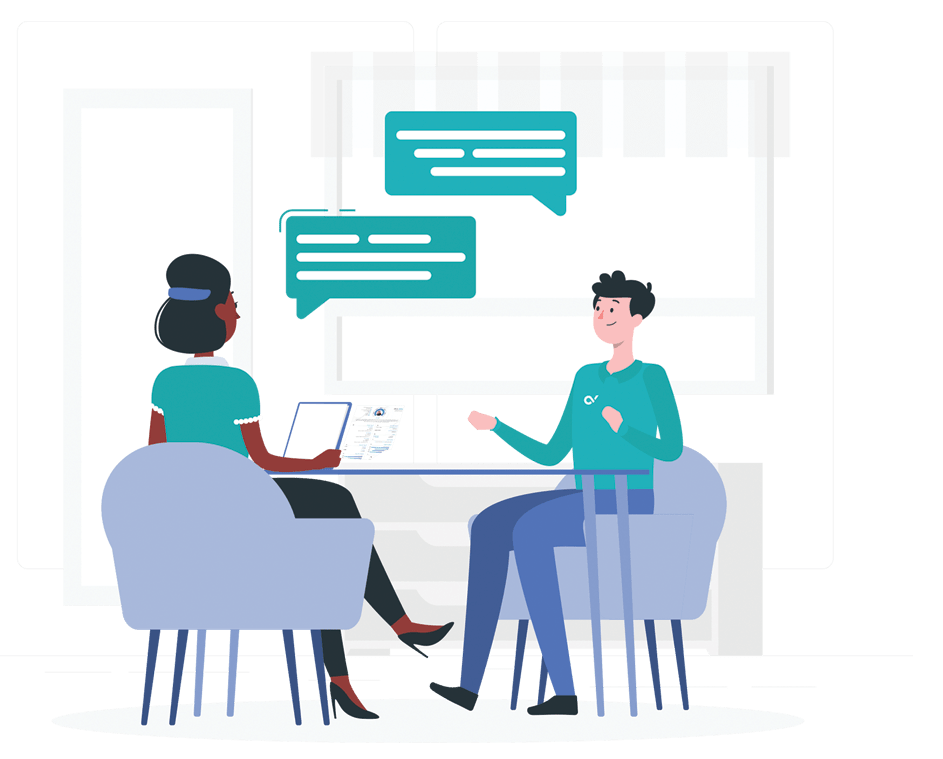 8. Lassen Sie das Anschreiben nicht links liegen
Similar to the executive summary, a cover letter is a must. And for far too many potential applicants, they miss out on the job of they're dreams because they're too reluctant to write a cover letter.
This critical piece of information can be considered your resume 2.0, It allows you to expand on your experience, to highlight the most important achievements in your career history to date, and it gives you the opportunity to quickly and clearly articulate just why you're the most qualified candidate for a position.
Und wissen Sie was? Sie können das alles in ganzen, vollständigen Sätzen tun.
9. Lektorat Lektorat Lektorat Lektorat Ihres Lebenslaufs!
This should go without saying, but always be sure to proofread your resume before you save and send it out.
And before you do that, have someone else read and proofread it for you as well.
Double check your information for accuracy, use Spellcheck on Microsoft Word, use a third-party software like Grammarly, or bring it to someone who you trust.
Verpassen Sie nicht Ihre Chance auf ein Vorstellungsgespräch wegen eines falsch gesetzten Kommas, eines vergessenen Punktes oder eines falschen Datums!
10. Sei zuversichtlich!
Your last step in this 10-step guide to writing the perfect resume is simple – just be confident. As long as you've followed each and every step listed above to the detail, your final task is to remain confident in your abilities, confident in your resume, and confident in yourself to land the job that you've always wanted.
Read more: List of 100 Best Words to Describe Yourself [Adjectives & More]
FAQ about writing the perfect resume
1-What are the 5 golden rules of resume writing?
The 5 Golden Rules of resume Writing
The Right Format Makes All The Difference.
Don't Forget Your Contact Information.
Keep It Relevant.
Don't Ditch The Cover Letter.
2-What does a good resume look like in 2022?
We'd advise using a reverse-chronological resume structure in 99.9% of circumstances. It's the most popular and practical format in 2022 since applicant tracking systems can easily understand it. This format is well-known to recruiting managers and recruiters alike.
3-What should you not put on a resume for 2022?
Limit the amount of information you include that is unrelated to the position you are applying for. Sure, you have interests, hobbies, languages, favorite songs, and goals.However, keep the information that doesn't speak to your capacity for accountability, responsibility, and hard work to a reasonable level.
4-How far back should your resume go?
For the majority of industries, career advisors and expert resume writers advise you to concentrate on the last 10 to 15 years. (Some positions, such as those in the federal government or academia, frequently demand for more thorough career histories.)
Styling CV offers all solutions for your resume, and in the blog section you will find various articles on how to build a resume with many tips and instructions.
Sign up now and get many advantages in terms of building a resume and accessing various templates.
Ähnliche Artikel
Tags
Erstellen Sie Ihren Lebenslauf in 10 Minuten
Verwenden Sie professionelle, praxiserprobte Lebenslaufvorlagen, die genau den "Lebenslaufregeln" entsprechen, nach denen Arbeitgeber suchen. Meinen Lebenslauf erstellen
MEINEN LEBENSLAUF JETZT ERSTELLEN